Grow Up Heads To The Moon On August 16
To the moon, Alice!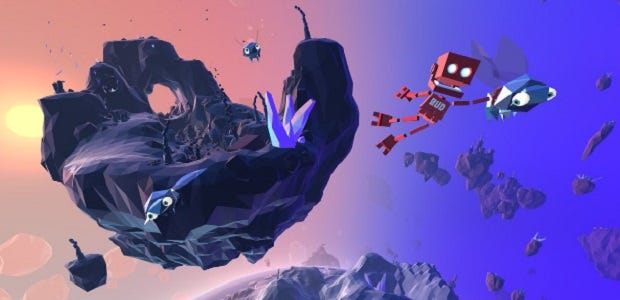 Our favorite clumsy robot BUD officially makes his triumphant return on August 16 with the release of Grow Up [official site].
Grow Up is the follow up to Grow Home, the delightful physics platformer which so delighted John. The sequel will see BUD tottering around a new open world in a quest to find the scattered parts of his space ship. BUD has made a few friends since we last saw him, now accompanied by a flying friend named POD who'll help him out.
BUD has some helpful new tools in his arsenal, too, including the Floradex 3000. The Floradex grants Bud the power to clone the 24 plant species living in Grow Up. BUD will have to use their abilities to navigate the game's missions and challenges before he can reach the moon, his final goal.
Grow Up has some large shoes to fill. Grow Home was widely praised for its challenging physics-based platforming and charming aesthetic. The game was most noted for its "growth" mechanics, which had players planting stems to make any matter of platforms, stairways, or mazes. You can check out Grow Up's E3 trailer below: