Here's When GTA 5 Unlocks For PC
An actually useful post.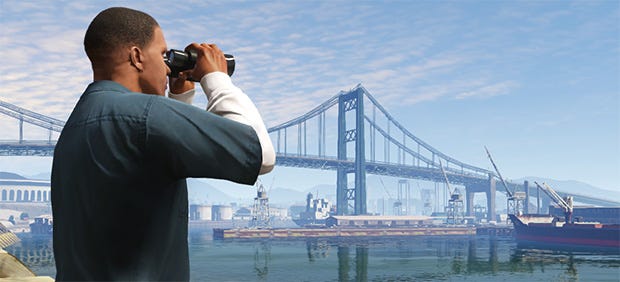 Suckle at my facts, news fans. Rockstar has rolled down its reflective Rolls Royce windows to whisper out a release time for Grand Theft Auto 5's launch on PC.
The game is going live on April 14 at 12 a.m. BST. For those of the British persuasion that's actually at 11 p.m. GMT.
Rockstar tweeted the launch times for the digital release today, which is the same for both Rockstar Warehouse and Steam. GTA 5 [official site] can be pre-loaded right now to those who bought the game ahead of launch.
In the meantime you can check out Adam's ode to the series over here. He writes: "I wanted to play Grand Theft Auto so much that I tried to make it in 1995, two years before DMA Design would release the first stage of their hot coffee quaffing, kill frenzy, controversy-generating cultural phenemonon. From that earliest incarnation, it wasn't the violence, drugs and sex (was there any top-down sex in the original? I have no memory of even a drive-by allusion but I'm almost certainly wrong) that drew me in – it was the titular act. I wanted to steal cars."
And that's why Adam is in jail now.