Samorost 3 Has A Release Date, And A Breathtakingly Beautiful New Trailer
Prepare your bobble hats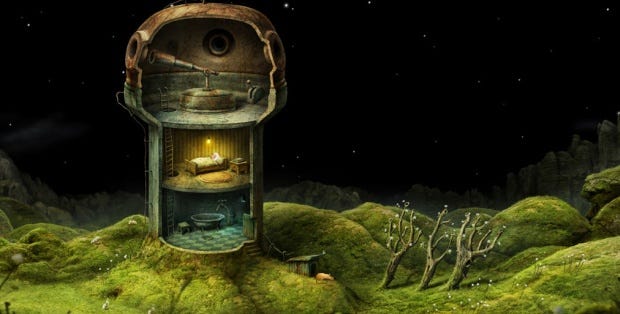 The journey of Samorost feels very much like the journey of designers Amanita. The first game in the series was a free quick-to-play web game built in Flash, but Samorost 3 [official site] - coming out on the 24th March - is a lengthy downloadable adventure following their astonishing Machinarium and Botanicula. From small beginnings, they're now one of the most respected adventure teams around, and expectations are extremely high for the first full-length entry in the Samorost series. Expectations that looks rather likely to be met if the quality of the new trailer, below, is anything to go by.
Amanita's games have been beautiful from the start, and the Samorost series I'd argue the most beautiful. Combining hand-drawn art with photography, nature with technology, they've always been spellbinding. The third game looks like it's staying entirely true to that, as you can see in a huge selection of gorgeous scenes in the trailer:
That anteater! The worried moth! The animated playing cards! Oh, everything about it is so achingly pretty, and as ever, boosted by the wondrous music of Tomáš Dvořák. (You can listen to some unmixed pieces from the new game on their website - scroll down.) And there's only a month to wait, after an agonising four years since it was announced.
Aminita have yet to slip up - it would seem very odd if they did with their flagship series. Fingers, toes, arms, legs and vertebrae crossed.