South Park: The Fractured But Whole Due In December
Watch the E3 trailer!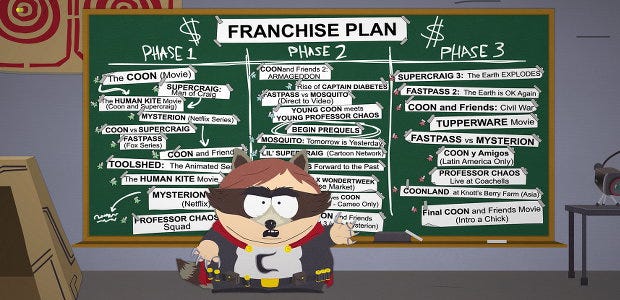 Ubisoft went a little quiet about South Park: The Fractured but Whole [official site] after announcing the RPG sequel during E3 2015 but this year's show has brought a release date: December 6th. Those naughty little children imagined they were fantasy heroes in The Stick of Truth but for the sequel they've become superheroes. Superheroes with grand visions of a huge movie franchise. Here, watch the E3 trailer to discover what brings about their own little civil war:
Players get to create their own superhero, working on an origin story, making your own costume, and getting superpowers of course. Look, I could ramble on, but if you're into this you should watch today's E3 presentation with Trey Parker and Matt Stone to learn more about combat, powers, and an awful origin. Also, jokes!
While Pillars of Eternity gang Obsidian Entertainment made The Stick of Truth, The Fractured but Whole is being made by Ubisoft San Francisco. Anyway, December 6th!
Do check out the rest of our E3 2016 posts, previews, odds, ends, and gubbins.