Dancing Like A: WildStar Going F2P This Month
Pop music mornings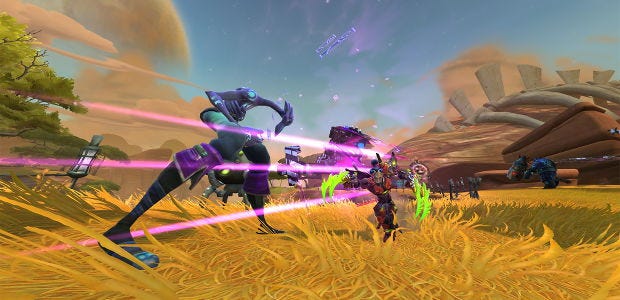 Giorgio Moroder and Foxes' jumpy discodance song Wildstar was probably not the inspiration for Carbine's MMORPG WildStar [official site] (the MMO came first - but that's the only reason this can't be true), but Wildstar has the same bouncy, fun tone that seemed to set WildStar apart from oh-so-serious other WoW fangames. I've wanted to check WildStar out but don't have the attention/inattention span to warrant buying MMORPGs. Good news, Alice! This morning you've managed to both wedge a fun pop song into a post and discover that you'll get to play WildStar soon.
Its switch to free-to-play will come on September 29th, say publishers NCSoft.
NCSoft say about the changeover:
"More than just a business model conversion, the free-to-play launch will be the title's biggest game update yet thanks to new content, enhanced game systems, and countless quality of life improvements. Titled WildStar Reloaded, the upcoming content update is the culmination of months of improvements and tweaks that make the game bigger and better than ever. New players will enjoy a greatly streamlined starting experience, while veteran players will be handsomely rewarded for their loyalty. As an added perk, all players with active subscriptions at the time of the free-to-play transition will also receive exclusive items as a bonus."
Aye, sounds good that. A WildStar player told us that they're looking forward to the switch, hoping for an influx of new players, so... good news for all?
So, now we've got a game based on WildStar (look, just go with it), I'd dig a MMO based on Black Star, where people quest for the attention and affection of a beautiful, radiant, callous dead sun who may or may not also be a pretty lady. It's a shame that what video games draw from metal mostly seems to be garbage about steel and skellingtons.