Win-Toy Soldiers: Disney Infinity - Marvel Super Heroes
Skylanders, SMASHED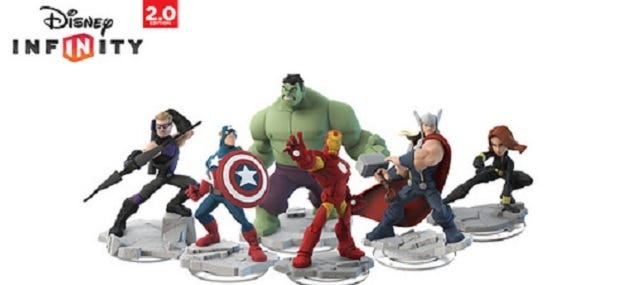 Whenever I'm reminded that Disney Infinity exists, I'm amazed that it doesn't have a terrifying claim on parental wallets worldwide. The $75 starter pack that is the gateway into the console toybox has racked up more than three million sales and while the PC version has an initial free download and doesn't support the physical figures that plug into the game, Skylanders-style, it is otherwise almost equivalent to the console versions. Purchasing the characters online as digital downloads does detract from the urge to collect 'em all but also means additional PC content is a little cheaper.
In Autumn, Infinity is expanding and the 2.0 release will contain twenty new characters plucked from the Marvel universe. Millions of wallets suddenly cried out in terror and were suddenly silenced. Perhaps that quote will actually be relevant when Disney unleash Infinity 3.0 to coincide with the cinematic release of Star Wars VII: The Generation Gap.
Will I be able to make Iron Man and Buzz Lightyear have space adventures together?
Disney Infinity: Marvel Super Heroes features more than 20 new interactive figures from across the Marvel universe, original storylines penned by award-wining Marvel comic writer Brian Michael Bendis, and an all-new Toy Box mode that makes it easier for players to create and share their one-of-a-kind levels and mini-games with family and friends. In addition, all characters and power discs from last year's release of Disney Infinity will be compatible with the Disney Infinity: Marvel Super Heroes Toy Box.

The Avengers' Iron Man, Black Widow, Thor, Captain America, Hulk and Hawkeye will debut when the game launches this fall, along with additional Play Sets and characters from other popular Marvel and Disney franchises, which will be announced in the coming months.
That doesn't answer my question but it does raise some new ones. Will Hulk perform mocking impressions of Shrek? What kind of crazy hijinks would ensue if Jack Sparrow joined The Avengers?
Will we see Yoda pitting his CGI whirligig fighting style against Deadpool at any point?