Witness The Murdered: Soul Suspect Trailer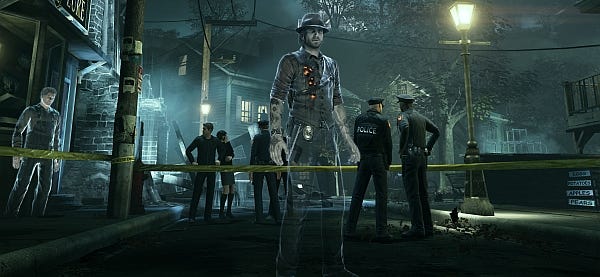 Being a Scotch person, I suffer a daily indignity of idiots asking me to say words that that have the letter 'r' in them. 'Murder' is a particular favourite. I honestly don't know what's so funny about hearing the word 'murder' coming from someone with a Glaswegian accent. When you hear it up there, it means you're either watching Taggart, you're about to take a broken bottle to a vital organ, or you've met my dad. You don't want to do any of those, frankly. I was reminded of this as I watching the Murrrrderrrredrrr: Soul Suspect trailer, a game about the ghost of a detective solving his own murrrderrrrerrererrrering.

So Airtight Games has returned to the otherworldy puzzle genre that they poked into with Quantum Conundrum, this time using ghost powers and detective powers to solve crimes. In this case the detective enters bodies so he can take in the collected evidence, listen to conversations, or even poke around to prompt memories.
If that intrigued you, there's a 25 minute walkthrough from a few month's ago. It shows the game to be a ghostly LA Noire, where you also need to fight demons and play proper poltergeist tricks to manipulate people.
For such a hokey notion, it seems to be super-serious. I watched the trailer and the walkthrough begging for some self-awareness. It'll be here sometime in 2014.