Pulp Prequel: Wolfenstein - The Old Blood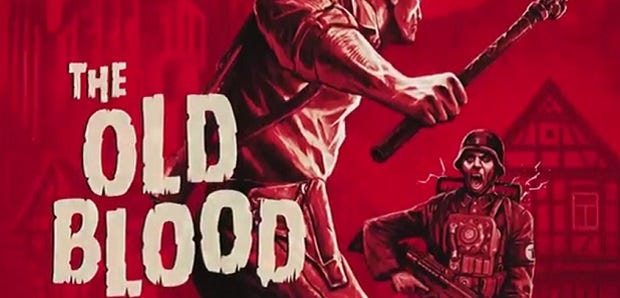 Bethesda have just announced a Wolfenstein: The New Order stand-alone prequel, which is wonderful news. Going by the subtitle The Old Blood, it's set in 1946 as the Nazis are on the brink of winning World War II. Good ol' Blazkowicz sets out on a tw-part mission, first of all breaking into the titular castle and then heading to Wulfburg to prevent the exhumation of terrible artefacts. The gloriously pulpy trailer is below.
That trailer and the titles of the two parts - Rudi Jäger and the Den of Wolves, and The Dark Secrets of Helga Von Schabbs - make me hopeful that The Old Blood will stick to the Indy-esque sense of adventure that The New Order captured so well. I enjoyed the melancholy as well, but thought the game was at its brilliant bet when it recognised how ridiculous its Nazi robot dogs and spectacular setpieces were.
If Machine Games can recapture the best of The New Order, this could be one of the great surprises of the year. It's out on May 5th and will cost $19.99, so it's unlikely to be anything like the size of the meaty New Order, but it's exciting to have a strong single player FPS to look forward to, no matter how brief it might be.
Bethesda will be showing more soon - "See the live gameplay debut live from PAX East 2015 on Twitch.TV/Twitch. Streams start at 10:30 am est on both Friday, March 6th and Saturday, March 7th!"