Have You Played... Wolfenstein: The Old Blood?
When Wolf tried to be predictable...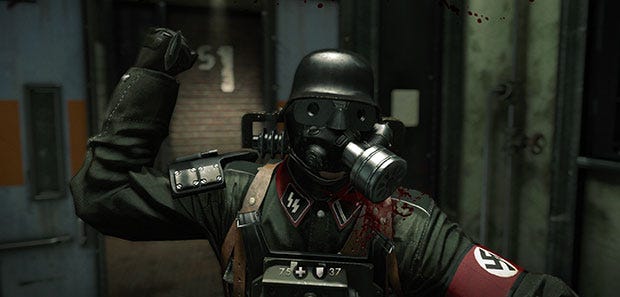 Seeing as Steam reviews are not entirely fairly arguing that the recent Wolfenstein 2: The New Colossus is too perfunctory a sequel, let's look back to a time when that really did happen. The Old Blood, a game that straddled the line between sequel and expansion pack to the excellent Wolfenstein: The New Order, was the very model of going through the motions. Paradoxically, it was also an attempt to give fans exactly what they wanted.
Which is to say, going back to OG Wolfenstein's straightforward, period Nazi'n'demon shooting, as opposed to TNO's post-war setting and exploration of its beefcake hero's trauma and existential crisis. That 'old' in the title was no coincidence - this was a gift-wrapped offering to Wolf 3D and Return To Castle Wolfenstein veterans.
I wonder how I'd have written our Wolfenstein: The Old Blood review if it had come about before The New Order. "Perfectly adequate latter-day Wolfenstein followed by really properly good new Wolfenstein" seems like a more natural flow in a way, and spares the disappointment inherent in "holy crap really good new Wolfenstein followed by eh, it's fine I guess Wolfenstein."
There will be people who skipped both games at the time who have now done just that, I imagine, and I envy them the surprise and delight they'd experience when moving from Old Blood's shallow but serviceable heroics onto New Order's crackpot brilliance, unpredictable escalations (and occasional tone-deafness).
As it is, for me, The Old Blood falls into that general morass of noughties Wolfenstein games that I can't entirely tell apart - I do almost remember it as coming before the New Order/New Colossus double-whammy. And perhaps that is best.