World Of Warcraft Classic launches on August 27th
Return to the era of HUGE BEEF WIZARDS.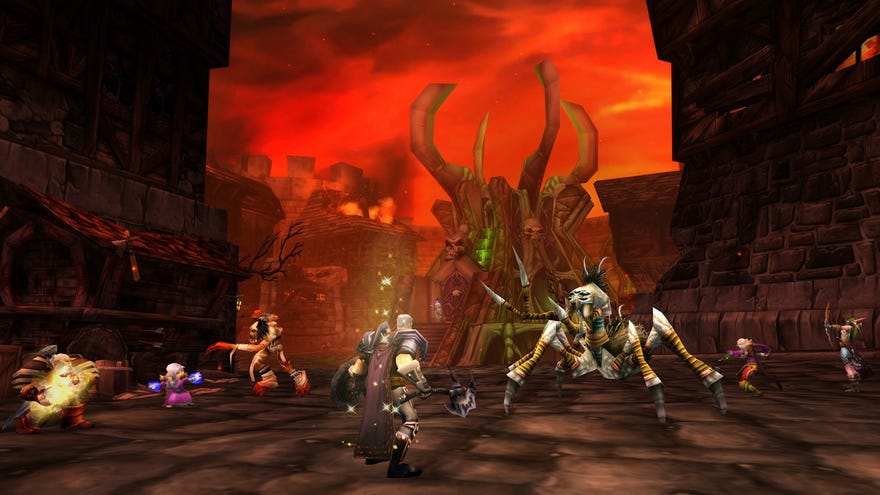 Blizzard have finally announced a release date for World Of Warcraft Classic, the official back-to-basics version of the game. While the genre-defining MMORPG first launched in 2004, Classic will be based on version 1.12.0, aka "Drums Of War", released in August of 2006, although polished up with a few modern conveniences. A series of invitational stress tests have been announced, starting next week on May 22nd, though only a few active WOW subscribers will be invited. You can see the test schedule here. When released, Classic will be free for active WOW subscribers.
Along with the Classic release date (11pm in the UK on the 26th, to be precise, 27th in most regions), Blizzard unveiled their 15th anniversary celebration plans as we approach November 23rd While there's no specific date, the plan is for a series of in-game events for the current version of World Of Warcraft, culminating in a new 25-player event raid. It'll reprise boss battles against some of the game's "most iconic" villains, and will reward a Deathwing-themed mount. They're also launching an expensive boxed 15th Anniversary Collector's Edition of the game, due for launch on October 8th and available for order here.
Back in March, Alice Prime broke down Blizzard's post-release plans for World Of Warcraft Classic - a steady drip-feed of updates and content to keep active players moving forward. It's similar to how unofficial (and sadly less-than-legal) fan-run servers have handled things. Despite the legal risks, the popularity of unofficial WOW servers seems a likely reason for Classic's existence. While I admit that I bounced off just about all MMORPGs up until Final Fantasy XIV (redux), even I feel a faint pang of nostalgia looking at screenshots of The Crossroads, circa 2006. Christos Reid took a look at last year's preview event, and found it just as he remembered.
World Of Warcraft Classic launches on August 26th, 11pm BST, or August 27th in most other countries. You can see specific times here. It will be available free to all existing WOW subscribers.