Metal Gear Rising Unplayable Offline (Update: fixed)
DRMETAL GEAAAAAR?!?!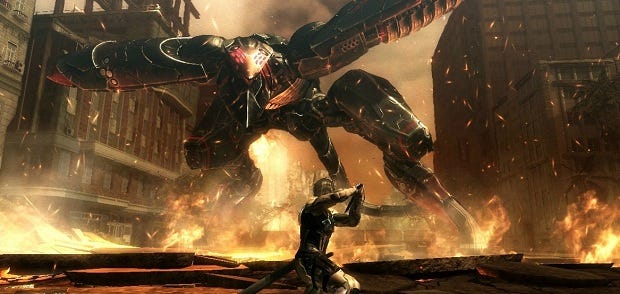 Edit: Steve Key, European Brand Manager for Konami, confirms that this was an accident rather than a DRM issue and the publisher has applied a fix: "MGR PC Update - offline problems *should* now be fixed." That's quick work and commendable.
Oh no, say it ain't so. Another single-player game that boots its owners back into cold, cruel reality the second an Internet connection drops? That would be the saddest of shames if it were the full story. Fortunately, that doesn't appear to be the case. While it's true that Metal Gear Rising: Revengeance on Steam falls to freshly sliced pieces when an Internet connection isn't holding it together, the issue is apparently not intentional DRM. Signs instead point to a Steam API error, though Konami and Platinum have yet to respond in any official capacity.
The closest thing we have to a developer or publisher response at this point is a confused "bwah?" from Platinum producer JP Kellams, who tweeted that he has "no idea" why this is happening. He promised to bring it to his team's attention immediately. "Don't freak out," he added. "I'll try to find out what's up."
In the meantime, NeoGAF users have narrowed down the problem's cause to Steam's API. We still don't know if Konami intended for it to function that way, but - at the very least - third-party DRM software is not responsible.
Given Kellams' surprise and the nature of this not-quite-DRM, it seems like this is all just a big mix-up. Until Konami issues a comment and/or fix, however, it's impossible to know for sure. We'll keep you updated.