X Rebirth Launches New DLC Alongside Major Update
A long road home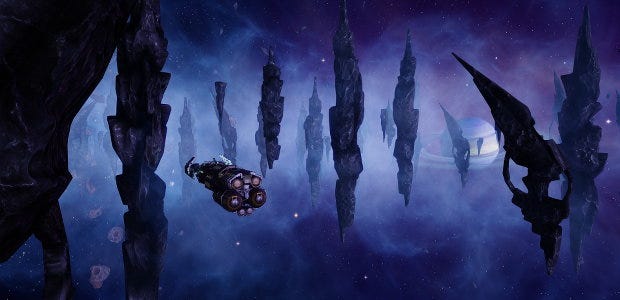 Since it's rather catastrophic launch back in 2013, Egosoft have been steadily steadying the X Rebirth [official site] ship with a host of free updates and expansions. The latest drive to get the space trading-a-thon back on course sees the release of the game's Home of Light DLC, its major update 4.0, and discounts across the board to both the base game and its add-ons.
The Home of Light expansion is said to "massively increase" the size of the X Rebirth universe, adding three new star systems, not least the titular Home of Light from the X3 games. This particular systems runs a far-reaching economy, comprised of dozens of Warehouse Trading Stations that facilitate high-volume commerce; whereas "fascinating new phenomena" and new enemies lurk in the systems further afield.
Update 4.0, on the other hand, is free and paves the way for a new bulletin board system used to keep track of missions, a new Trade Deals menu complete with profit estimates, an overhaul of the game's external view, and new missions tied to hack stations and the gathering of rare and valuable items, among many other improvements. Seriously, there's loads, check them out over here.
For a closer look at what Home of Light and update 4.0 entail, here's Egosoft:
It's worth noting that I myself haven't ventured into X Rebirth since around the time it was considered, how should I put this, not very good, so I'm clearly not in the best position to say whether the intervening updates have actually improved matters since launch. Negative Steam reviews still well outweigh positive ones, however a cursory glance would suggest it's gathered more favourable reviews in recent months.
In any event, Home of Light costs £6.39 with a 20% discount on Steam. The X Rebirth base game is also going for £8.74 with a 75% discount between now and 10am PST/6pm GMT tomorrow. This time frame applies to similar discounts to X Rebirth's various Collector's Editions and bundles.