You Can Totally Watch The Gaming BAFTAs Below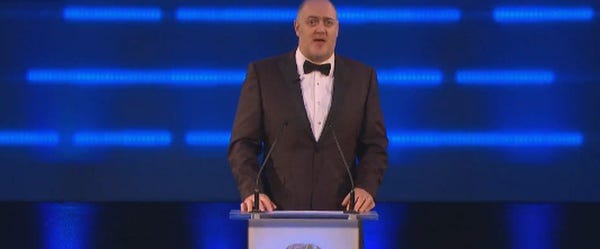 There are videogaming BAFTAs. I wouldn't know, since BAFTA have never invited me to anything. WHAT AM I? CHOPPED GAMES JOURNALIST LIVER? It appears they happened last night, and games won awards. Which games? Which awards? I'll grudgingly tell you now.
The results fall squarely into that odd new zone of the mainstream of non-mainstream. The games absolutely everyone bought, while feeling like they were special for having bought them. And king of those games is PS3 exclusive, Journey, which greedily scooped Artistic Achievement, Audio Achievement, Game Design, Online Multiplayer (WHA?), and Original Music. And that's despite being a game about going for a boring walk in the sand! Impressive stuff.
Indie darling Thomas Was Alone picked up the rather odd prize for Best Performer, for Danny Wallace's narration. I very briefly worked with Danny Wallace about 14 years ago, and he was always a bit rude to me, so I'm not sure he deserves it. Telltale's much loved The Walking Dead series received even more accolades, with one for Mobile And Handheld, and another for Story. The other darling of the indie set, The Unfinished Swan, grabbed Game Innovation and Début Game.
The Best British Game, according to BAFTA suits, was handheld puzzler The Room, and the Family Award went very deservedly to Travellers Tales, except for entirely the wrong game. They got it for LEGO Batman 2, where it should obviously have been given for either LEGO Harry Potter 2, or LEGO Lord Of The Rings. Something called SongPop picked up Online-Browser, and New Star Soccer garnered the nebulous Sports/Fitness. (I'm not quite sure how sofa entertainment and jumping up on down on plastic games can be in the same category.)
We are told we should watch the appositely named Kind Of A Big Deal, for Starcrossed, with their Ones To Watch award, and of course Uncy Gabe was presented with his Academy Fellowship for Best Beard.
But Best Game went to Dishonored - certainly one of our favourite games of 2012, but one we found didn't have the staying power to top our list for the year.
You can watch the whole thing here: