Your Discounts Are Augmented: Deus Ex Collection For £4
Also 10% off Mankind Divided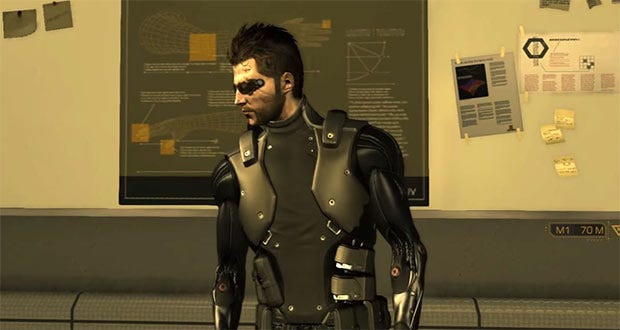 You didn't ask for this. You didn't ask for this because if you know the I Didn't Ask For This meme then surely you already own Deus Ex: Human Revolution, and thus have no interest in it being discounted to £3.99 in a pack also including Deus Ex 1 and Invisible Whatever. What a shame. But if you don't already own Human Revolution, then oh my God this price is the bomb! The bomb!

So, £3.99 for the Deus Ex collection, which includes Deus Ex: Human Revolution - Director´s Cut, Deus Ex: GOTYE, Deus Ex: The Fall and Deus Ex: Invisible War. Alternatively you can get DXHR for £3.25, the first two games for £1.49 each or mobile port The Fall for £2.25. Get the pack, basically.
Three provisos. 1) This has to be done via the Square Enix store, but you don't need to augment your PC with some unnecessary new installer - you'll get given Steam keys. 2) The deal is only valid in the EU for now, although I'm sure clever Americans will find some way around that. 3) The deal only runs until midnight UK time on May 31st, so get a move on if you're going to.
You can also pre-order the upcoming Deus Ex: Mankind Divided for 10% off, but given we know basically nothing about that yet it seems a might unwise at this stage. You should probably do a safety dance until we inevitably get a big reveal at E3.