UK Tax Relief For Game Developers Scrapped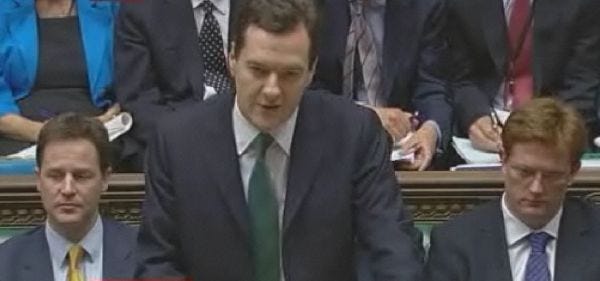 Anyone remember March? Ah, those halcyon days of innocence, back when we considered the possibility of good news for the British games industry. Then UK Chancellor of the Exchequer, Alistair Darling, announced in what would be his final budget a pledge for a tax credit system that would aid creative industries, including game development. Of course, as we said at the time, this was dependent upon whoever won the election not overturning the decision. However, pre-election both the Conservatives and Liberal Democrats pledged support for the move. But new Chancellor of the Coalition Government, George Osborne, has scrapped the plans in today's budget. And many in the games industry have already reported their horror.
It is a terrible shame, and potentially a mindlessly short-sighted decision. The British gaming industry brings in £1bn per year to the UK economy, as well as providing 27,000 jobs. With similar tax cuts in many other countries around the world it will only become harder for UK developers to be competitive and profitable without similar support. And support both parties now in the coalition had pledged to provide.
There are other bits and pieces in the budget may help small businesses, as points out GI.biz's Alex Mere. Corporation tax for small business will be brought down to 20%, and those starting businesses outside of That London will escape £5000 of National Insurance contributions for each of their first ten employees. Larger companies will have a drop of 1% in corporation tax, every year for four years. (So, er, that's tax cuts for big business, while VAT rises to 20%. Who could ever have guessed?)
Despite those tweaks, this is still dreadful news for British developers. "This is a blow to the UK games industry and could reduce the chance of international investment and new jobs in the UK," says Rupert Clark, video games expert at business advisory firm Deloitte. He continues,
"With lower average salaries than the US, a wide range of established and experienced studios and great talent across the industry, the UK is now a great investment opportunity for major international games companies. Without a tax break, game development in the UK could appear risky when compared with countries such as France and Canada where tax breaks are available.

UK games companies will now have to compete in a global market without the support provided to many of their competitors. Although the UK industry continues to be strong performer, it has dropped from third in the world to fourth in the last two years and the scale of games produced in the UK could follow. The government has an opportunity in the next budget to support a growing employer and driver of export revenues."
ELSPA is similarly horrified. Director General Michael Rawlinson gave a statement saying,
"Bearing in mind the pre election commitment towards tax breaks made by the Conservatives and the Liberal Democrats we are extremely disappointed by the outcome of today's Budget. Our industry will be rightly puzzled as to how tax breaks can be lauded before an election, only to be seen as 'poorly targeted' and scrapped just 6 weeks later. We understand that this decision has been made in the context of the current economic climate. Yet the Chancellor today spoke of the need for a more balanced economy. If this is to be attained the government must acknowledge that the creative industries are of vital importance. Therefore in the absence of tax breaks it is the essential that the government work with our industry to ensure that the policies which we have outlined - such as addressing the skills gap and better access to R&D initiatives - are implemented."
And TIGA, the trade association representing the UK video games industry, were also shocked. Yesterday they attempted to ensure such a reversal of positions did not take place by delivering a petition to Number 10. It clearly made no difference. They have issued a statement condemning the Coalition Government's overturning of this innovation. Their CEO, Dr Richard Wilson, said,
"The Coalition Government has broken pre-election pledges made by the Conservative Party and by the Liberal Democrats to support and introduce Games Tax Relief. Unless the Coalition Government introduces Games Tax Relief or a similar fiscal measure then the UK will forfeit millions of pounds in inward investment, jobs will be lost and we will cease to be a leading developer of video games. The UK video games industry is export oriented, high tech, highly skilled and low carbon in output. This is an industry of the future which the Government should be supporting with action, not words."
Rebellion's CEO, Jason Kingsley, added to the comments saying,
"It is hugely disappointing that the Coalition Government has decided not to introduce this tax measure, especially given the existence of tax relief for other sectors of the economy. However, TIGA will continue to lead the campaign for Games Tax Relief in the months ahead. Games Tax Relief or a similar fiscal measure is the industry's top priority. Other policy issues are entirely secondary. We need a tax environment which allows UK games businesses to compete on a level footing with our overseas competitors."
It's a peculiar and peculiarly backward decision. It is of course blamed upon the current economic climate. However, this climate hasn't changed in any particularly significant way in the last six weeks, when both Tories and Lib Dems were vocally in favour of the cuts. We are sure more comment from the industry will follow. There's no word in the budget about whether Darling's plan to provide tax relief for offshore oil drilling has also been overturned.