Hands on with Asus' MOBA and FPS-friendly Hero II and Scar II laptops
Zero to scar-faced hero
The phrase "mid-range gaming laptop" often seems a bit silly, considering that even this tier – in theory the most sensible one – is still occupied by mad, distressingly angular notebooks costing as much or more as a 4K-ready desktop. That said, there's certainly a gap worth aiming for between bulky, plasticky entry-level models and the swish but even more punishingly expensive high-end.
This is where Asus' first-gen ROG Strix Scar Edition and ROG Strix Hero Edition reside, and now Computex has revealed their replacements in the form of the ROG Strix Scar II and the ROG Strix Hero II.
Once again, these are distinct yet similar machines – for instance, you have the same choice of a either hexa-core Intel Core i7-8750H or quad-core Intel Core i5-8300H on both. Graphics power is unchanged from the old models, with the Hero II supporting up to an Nvidia GeForce GTX 1060 and the Scar II up to an Nvidia GeForce GTX 1070, and once again their respective genre focuses are represented by highlighted keys: QWER on the MOBA-minded Hero II, and WASD on the FPS-friendly Scar II.
They also broadly look and feel the same, with smooth, spacious trackpads and lively chiclet keys, and while they're lighter than their predecessors – both down to 2.4kg, from the Hero Edition's 2.5kg and the Scar Edition's 2.6kg – there's hardly a huge difference when playing at a desk.
What's new, then? For starters there's the quad-antenna Wi-Fi, which – credit where it's due – is present in the lower-spec Hero II as well as the Scar II. This will supposedly help make your connection more reliable, but it's the 30% range improvement that sounds most useful. Wi-Fi outages are rarely the receivers' fault, and a laptop is meant to be portable – more range equals more portability, even if I've personally never booted up Steam in the garden.
Both laptops also have slimmer bezels round their respective displays, which contribute to narrower, less chunky designs and presumably that mild weight loss. At 15.6in, 144Hz and 1920x1080, the Scar II's display merely matches that of the original Scar Edition, but the Hero II receives a meatier upgrade, jumping from 120Hz to hit 144Hz as well.
Although I only had the chance to actually play games on the Scar II, rather than watch videos and potter about the desktop (for which a Hero II was available), it's safe to say both are using the same panel, and initial impressions point to it being a good'un. The process of having my posterior handed to me in Counter-Strike: Global Offensive looked as smooth and sharp as it would have on my desktop setup back home, and 1920x1080 doesn't feel like too low a resolution; you get diminished returns from higher resolutions on smaller screens anyway, and these would also impact frame rates to the point where you might not benefit from a 144Hz refresh rate at all.
Colour balance seemed fine on both laptops, and since they use IPS panels, viewing angles were nice and wide, too. Brightness is often a weakness of gaming notebooks, and it was hard to judge in Asus's dark booth how the Scar II and Hero II might stand up to the sun's vengeful rays and/or an overhead lamp. So far, though, they're pretty impressive in motion.
Performance wise, CS:GO was generally hitting between 160fps and 200fps on the GTX 1070-equipped Scar II with maxed out graphics settings. Unsurprisingly, that's nowhere near what you'd get from a desktop-grade GTX 1070 and equivalent Core i7, but those are some very big numbers regardless, and more than enough to fill out that high refresh rate. Valve's shooter is a relatively easygoing FPS on the technical side, though, so how well the Scar II can handle games like Plunkbat and Far Cry 5 remains to be seen.
At least controlling them will be no bother, as the keyboard – which includes a ten-key pad and four dedicated media keys – works just fine. Travel depth is decent at 1.8mm, and they bounce back after each press with satisfying speed. The vast majority have a gentle concave curve, too, which helps with comfort. And, while it's a shame each laptop's respective highlighted keys don't have a different texture as well, you can make them stand out even more with one of the myriad of backlighting options. Like half the stuff at Computex, it's RGB, with the keyboard split into four customisable zones.
Connectivity appears unchanged from the Scar Edition and Hero Edition, save for that new set of antennae. Not that those older laptops were lacking: Asus has wisely split the USB ports between three full-size connectors and one Type-C, and there's still an Ethernet jack if you prefer the stability of a wired connection. There's also a choice of full-size HDMI and mini DisplayPort video outputs, in case buying a gaming laptop hasn't evaporated your savings to the extent that you can still afford an even larger 144Hz-plus monitor.
Indeed, both of these will be quite the investment. Specific UK pricing (and a release date) is MIA, but judging by US pricing of $1999 for the Scar II and $1699 for the Hero II, you can probably expect something around the £1500 and £1200 mark for the base spec of each laptop. That will naturally jump upwards if you want the i7 chips and higher SSD capacities, which themselves scale up to 512GB.
For that kind of money, I don't feel bad doing some nitpicking. These laptops have absolutely slipped into the ROG brand's 'TRUE GAMERRR' habit of over-designing in places, particularly on the Scar II; no laptop needs, deserves or even remotely benefits from camo patterning. That space bar also looks like its designer's elbow fell off the table as they were drawing the bottom edge.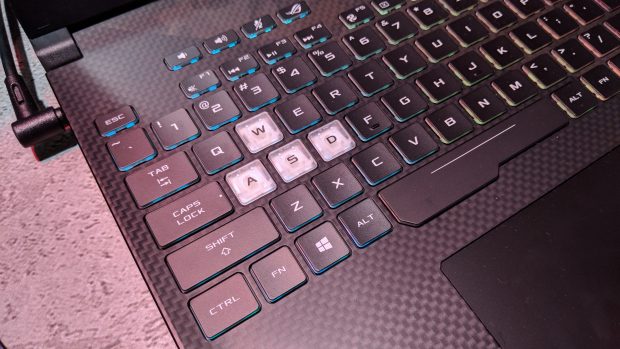 Likewise, and this could be considered unfair given the price difference, neither of these devices are exciting in the way that properly slim, light gaming laptops like the Gigabyte Aero 15 or Asus's own ROG Zephyrus were when they first launched. The Scar II and Hero II seem well-built with good internals, but they're still somewhat chunky and heavy – not exactly visions of the future.
I suspect it'll all come down to final pricing; even a conservative laptop can be a good buy if the price is right. The Hero II seems particularly worth paying attention to, as bonafide mid-rangers with 144Hz displays aren't all that common.