Free games of the week - July 28th 2018
Free games on the free game freeway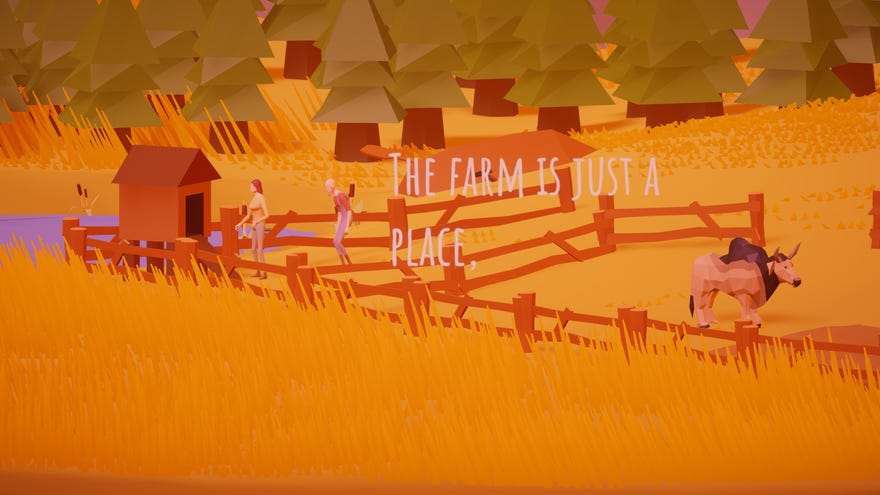 This week, I bring you a jumble of both fun and meaningful experiences. We have a skeleton dance party where you must summon your skeletons and dance your way across the room. We have a space rat looking for their lost lunchbox on alien planets full of funky creatures. Then, on the more serious side of things, we have a man managing a hotel that holds dark secrets, a junk drawer somehow filled with memories from a past life, and a farm full of people you love about to be invaded by aliens. Which would you like to explore today?
Looking for more free games? Check out our round up of the best free PC games that you can download and play right now.
Skeletal Dance Party by Catalope Games
Dance through rooms full of enemies in Skeletal Dance Party! These magical beings are just trying to have their own little dance parties, but they start to attack you when you come near. Maybe they're really serious about their personal space. You, being a witch, can defend yourself - blasting them over and over until they die… again, presumably. You can then turn them into subservient skeletons to dance and fight for you, or milk cartons, to be consumed for more health.
Your real goal is to have control of as many skeletons as possible - dancing around the level with your possy. As you gain more skeletons, you'll notice some have instruments they play while others will pick up swords and shields to fight alongside you with. The music, as one would expect with a game revolving around dancing, is wonderful and catchy.
Currently, Skeletal Dance Party is in an early alpha state - the developers are hoping to add a full narrative experience, puzzles, and more spells in the future. At the moment, it's just fun to tinker around in and dance your heart out.
Cashbags by Sand Gardeners
Instead of starting a dance party, try running this incredibly creepy hotel as the infamous Cashbags!
You're in charge of the Brownie Cove Hotel, a family owned establishment where people can check in and stay as long as they like - with free and unlimited alcohol and antidepressants. As the manager and receptionist, you must check in guests, take their money, answer the phone, and deal with the requests coming in from your staff.
In interacting with the various guests, you can be polite, rude, or somewhere inbetween. There are a lot of people coming into your hotel - and sometimes it gets quite busy. Some are looking to just check in and relax, but others get… really weird. There's a lot more going on at the Brownie Cove Hotel than meets the eye - it's said that a place of paradise is never what it seems. Neither is your character - a seemingly perfect money-maker.
There are many different endings to Cashbags, depending on how exactly you play the game. See how many you can unlock. Don't forget to play around and see what you find. I turned on the radio and at one point I distinctly heard it say "Brownie Cove Hotel Radio. Get cultured, you disgusting peasants."
Space Rat by bithox
If something more cheerful is what you're after, or at least something with less of a circa-2005-Salad-Fingers kind of vibe, Space Rat allows you to play as a little rat whose lunchbox has been stolen. A stolen lunch box doesn't seem like a very important thing. But on the other hand, isn't it? It is to a space rat, anyway. So off you go on a mission through loads of wonderful planets to find your beloved food. You're able to explore strange planets full of different creatures - some of which might have seen the thief and point you in the right direction.
You find crumbs along the way, proving to yourself that your lunch box is probably around, or at least passed by. Exploring these delightful planets and getting to know the locals along the way is the most wholesome adventure I've gone on in a while. Even the thief has their reasons - if you can find them that is! If not, it seems like you might get full on all of these crumbs they left behind - so you might as well enjoy what you find anyway. There are a lot to each of these little worlds, and each one is wonderfully written and fun to explore. Hopefully, you can find some food to munch on!
A Junk Drawer in an Empty Nest by jcarrwalker
Sometimes, you just want to rummage through some lost or forgotten items left in some strange place in your house. In this text-based Twine game, you're a mother whose son has left recently. You are digging through that junk drawer - probably in your kitchen - looking for some items you need. It seems that everything in this drawer - this drawer of seemingly just junk - leads back to memories of your son.
From the coins that relate to travel destinations to the mysterious key that unlocks something in his room. Even the batteries remind you of when he was home. He hasn't been home in a while, and these memories are what you have mostly now. It's strange how something as simple as junk, tossed aside and kept in a rogue drawer, barely ever opened, can remind you of someone you love so dearly. Simple everyday objects that you're pretty sure everyone else has in their junk drawer. But they're all the more meaningful when they remind you of the person you love.
Heartland by Victor Weidar Games
This point and click adventure sees you tending to your farm in the final hours on Earth. An alien invasion is coming very soon, warnings have been given out, and everyone seems to be evacuating. You're the father figure to a perfect family. You grew up on this farm, raised your kids here, and now look after it. But, you also have a limp that would get in the way of a fleeing family.
And because of this, you want your family to go on without you. You feel that you would just hold them back - but they don't seem to want to go without you either. This farm of yours has become a home to your children and to yourself. Each small part of it is full of memories, full of people you love dearly. You don't know what this invasion will bring, but you want to make sure the people you live with can find a home somewhere else. All of your children have different opinions on your reasonings and thoughts. You can slowly explore around, checking out lost memories and speaking to your kids. Hopefully the invasion won't be too harsh on this once thriving little farm...
Disclosure: Jupiter Hadley is an apprentice games wizard at Armor Games, helping them to find released free games to sign.