Hidden Object Game: The Movie
Take that, Big Fish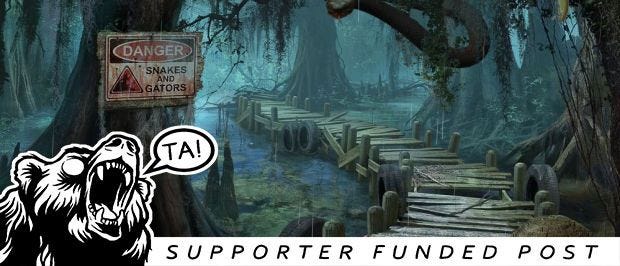 FADE IN
INT. FRONT HALLWAY OF HOME - DAY
Wife and husband ALISON and JAMES are heading out to the supermarket, before visiting some friends for dinner. JAMES, a hidden object game designer, is putting on his shoes. ALISON waits impatiently by the door.

ALISON
Where are the car keys, honey?
JAMES
In the cupboard above the sink.
ALISON
The keys for our car are now in a cupboard?
JAMES
Yes, the cupboard with the butterfly lock.
ALISON
A butterfly what now?
JAMES
You know, the butterfly lock. Where you slot in the two pieces of the butterfly to open the cupboard above the sink where I keep the car keys.
ALISON
Riight. So can I have the butterfly pieces then?
JAMES
I don't have them on me.
ALISON
Then... can you tell me where they are? We're going to be late for dinner.
JAMES
One half is in the well in the garden, the other I think I put under the bark of a tree a couple of doors down.
ALISON
What... but why would... We... we have a well?
JAMES
It's boarded over and buried by weeds, in the far corner.
ALISON
You put them... wait, hang on, are you saying that once you'd put this butterfly thing in there you boarded it up again and then put weeds back on top?
JAMES
Sure, yeah, I guess.
ALISON
I can't even... Whatever. What did you use to un-board the well in the first place?
JAMES
The crowbar, honey.
ALISON
We have a crowbar now? Well, okay, where is it?
JAMES
It's in the door of the old broken down wooden cart in the field behind the house.
ALISON
Wow.
JAMES
What now?
ALISON
No, nothing, sure - it's in the old broken down wooden cart that's apparently in the field.
JAMES
You're sounding really aggressive.
ALISON
I'M SOUNDING AGG... God, fine, sure, sorry. You want me to go to the wooden cart then?
JAMES
Oh, you won't be able to get it open - one of the wheels is missing and that's wedged the door closed.
ALISON
You mean, after you put half of the literally impossible lock for the kitchen cupboard inside a well and then boarded it up and hid it with weeds you took the crowbar and put it in an abandoned cart from - what - the 17th century - and then removed a wheel from it so the door couldn't open?
JAMES
There's that tone again.
ALISON
Are you kidding me?
JAMES
So I care about the security of our car. And now that has to become this whole big thing with you?
ALISON
Are you seriously... oh screw it. Yeah, fine, security. Can I have the wheel for the cart?
JAMES
Sure. One of the spokes is missing, hidden somewhere in the lighthouse, and it'll need the rim fishing out from the bottom of the river.
ALISON
I want a divorce.

FADE OUT