Insects And Real-Life Gamefaqs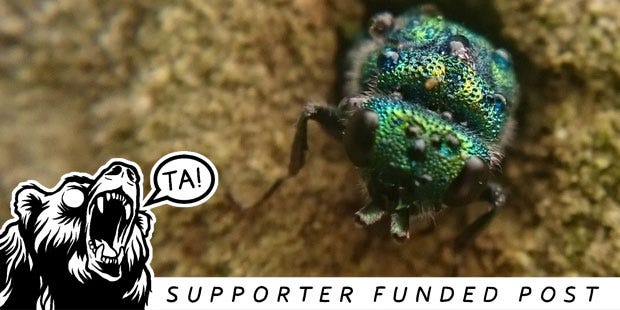 This last few weeks I've been thinking about game walkthroughs. The ones which tell you how to find every collectible - the time spans during which they spawn and their rarity alongside any ways you can manipulate the odds in your favour.
I've been thinking about all this because I'm kind of consulting real life walkthroughs at the moment. There are some insects I've seen in my wildlife books or which have cropped up online as I tried to ID a related creature which I've really wanted to see for myself.
One is a green dock beetle, another was a ruby-tailed wasp.
Read the rest of this article with an RPS Premium subscription
To view this article you'll need to have a Premium subscription. Sign up today for access to more supporter-only articles, an ad-free reading experience, free gifts, and game discounts. Your support helps us create more great writing about PC games.
See more information