I've Forgotten Everything About Deus Ex: Human Revolution
Blank nod in the machine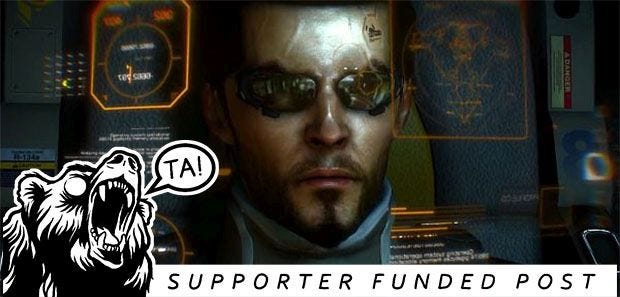 I've never been able to remember what happened in Bond films. I'm not sure what this says about me. Perhaps it's as simple as, "I'm an idiot". Perhaps it's something about their structure that my brain just can't find the energy to care about enough to keep up with. But in any Bond film, or similarly twisty-turny goodies-are-baddies-are-goodies action film, I get to the end assuming everyone's happy with how things turned out, hopefully having enjoyed the explosions. I'm concerned my brain is rejecting Deus Ex's current plots for the same reason.
Read the rest of this article with an RPS Premium subscription
To view this article you'll need to have a Premium subscription. Sign up today for access to more supporter-only articles, an ad-free reading experience, free gifts, and game discounts. Your support helps us create more great writing about PC games.
See more information