Merry Christmas: Here, Have A Free RPS Christmas Game!
Ho, Ho, Horace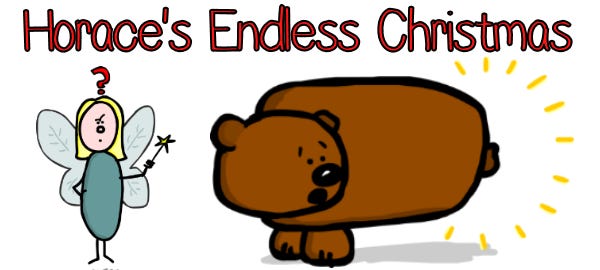 Edit: The game is no longer available, sorry!
As RPS winds down for the Christmas break, you need not fear. We'll still be posting some splendid things throughout the holidays. But today - the gift-givingest day of the year - we have a special surprise treat for you! A Rock, Paper, Shotgun game! Horace's Endless Christmas explores the blasphemous horror of what would happen were Horace The Endless Bear to lose his infiniteness. You can get it for PC, Mac and Linux below!
Horace's Endless Christmas is the work of Big Robot's James Carey, with design from Jim Rossignol, and art from John Walker. See how we put the last names in to make them look like proper people? In tragic circumstances, Horace's endlessness has ended, his infinity has become finite, and it's up to you to help him restore his impossibly full length. Any similarities to any other famous games are entirely coincidental.
If you want to get hold of the free game (and let's be honest - of course you do) then pick the appropriate operating system from below:
Download it, extract it, and run it. As simple as that.
(If any problems come about with these links, please email John and he'll throw turkey over his shoulder and leap to the rescue.)
So we wish you the very best wishes over the holiday. Thank you for what's been RPS's best year ever. As we say, posts will still appear over the break, but we're all on our holidays so clearly things will be slower than normal. And on Weds 3rd January, we'll be back with our mega-preview of 2013 - what is already looking like one of the best years for PC gaming we've seen.