Screenshot Saturday Tuesday: is business the real monster, or are the giant monsters?
Admire these interesting indie games!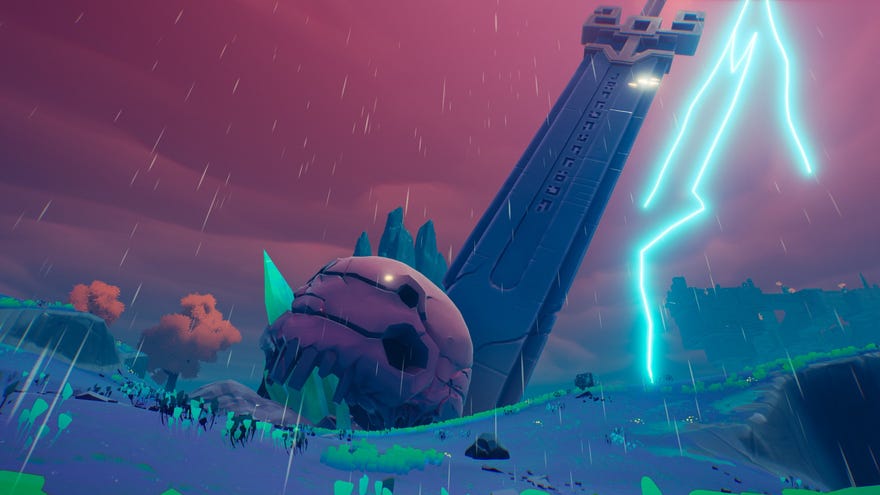 Every weekend, indie devs show off current work on Twitter's #screenshotsaturday tag. And every Monday (well, Tuesday now, because we were off yesterday), I bring you a selection of these snaps and clips. This week, we admire vast landscapes, a horrible glob of dog, weird offices, giant monsters, and so many more interesting and attractive indies. Check 'em out!
Striking landscapes from Hyper Light Breaker (coming to Steam):
Varied biome shots (captured by @hippowombat)

Our enviro team is incredible.#HyperLightBreaker @HLBreaker #screenshotsaturday #gameart pic.twitter.com/fntnsdZPNr

— Heart Machine Official (@HeartMachineHQ) April 8, 2023
A good dramatic zoom-out in puzzle-platformer Bionic Bay (coming to Steam, with a demo there now):
Testing some epic zooming. I like when something looks nothing particular at first but then changes into something dramatic. A bit like first trailer for Fallout 3 or when Neo wakes up from the Matrix ❤️💙#indiegame #pixelart #madewithunity #gamedev #scifi #screenshotsaturday pic.twitter.com/3fKduL8jVD

— Juhana Myllys (@JuhanaMyllys) April 8, 2023
I do appreciate this horrible little shader trick in Backrooms: The Project (coming to Steam), another first-person explorer inspired by the creepypasta:
Sometimes a simple shader trick is all you need#screenshotsaturday #indiedev #gamedev pic.twitter.com/Mk8r3MlkZy

— Backrooms: The Project | Wishlist on Steam (@BackroomsTP) April 8, 2023
I do not appreciate being chased by a glob of dog in metroidvania Being And Becoming (coming to Steam):
Hey Dreamer, just a word of advice. If you get lost in the Forest...

...you better run. Fast.#screenshotsaturday #metroidvania #pixelart #indiedev #indiegame #gamedev #ドット絵 #像素艺术 #픽셀아트 pic.twitter.com/j3RZX2qbjb

— Being&Becoming (@being_becoming) April 8, 2023
The Milk Lake (coming to Steam) is still so enjoyable to watch:
from the start i wanted character motion that was precise, realistic and responsive enough to be a core game mechanic itself. v excited about how good this feels with that goal in mind.

+a little combat!#screenshotsaturday #indiedev #gamedev #madewithunity #unity3d pic.twitter.com/F5hJsWPjL0

— The Milk Lake (@TheMilkLake) April 8, 2023
It's also been a while since I last looked at weird office adventure game Lifelong:
Warning: #screenshotsaturday The scopesoft offices can make you dizzy 🤕#indiegames #indiedeveloper #gamedev #indiedev pic.twitter.com/xUzEEBlMJh

— Rem (@RemzouzeIV) April 8, 2023
Speaking of offices, I can confirm that MiddleManagement's employee-gobbling glob is how business works:
Some gameplay from a game I am working on. #screenshotsaturday #IndieGameDev pic.twitter.com/sDYTR5pbUy

— MiddleManagement (@MidManageGame) April 2, 2023
Nuts to post-apocalypse, throw me into the apocalypse:
Apocalypse WIP#screenshotsaturday #OMUI @theStaticMan pic.twitter.com/JqI1DaDL14

— Julián Palacios (@yulele_palacios) April 8, 2023
An interesting effect for waves lapping at the shore in MechaWing Adventure (coming to Steam):
Here's a look at an ocean rolling in #screenshotsaturday #gamedev #bird pic.twitter.com/jLwq9gcJGh

— Birdices (@birdices) April 8, 2023
I am glad that Xenotilt (coming to Steam), the sequel to excellent pinball game Demon's Tilt, looks just as lively:
HOSTILE #PINBALL ACTION. WISHLIST XENOTILT NOW! #screenshotsaturday https://t.co/sY5JIlzNFg pic.twitter.com/Y7J8Tzjov0

— XENOTILT: HOSTILE PINBALL ACTION (@XENOTILT) April 8, 2023
A bit of platforming movement tech in Paintvale (demo available on Itch):
Introducing the Dive Cancel!
Pressing jump during a dive stops it, allowing fpr some SLICK manuevers!#screenshotsaturday #indiedev #gamedev pic.twitter.com/Mr6DSuB5Nj

— JuniPinPan (@PaintValeDev) April 8, 2023
A bad time in cooperative survival horror Whisper Mountain Outbreak (coming to Steam):
What do you do when you hear the sound of a banging door?

A. Approach
B. Observe and do nothing
C. Run
D. Sacrifice your teammates#WMOgame #screenshotsaturday #coop #survival #horror #pixelart #indiegame pic.twitter.com/nihLfiPpDE

— Whisper Mountain Outbreak (@WMOgame) April 8, 2023
I strongly believe in attacks filling the screen, like this in Survivors of the Dawn:
A quick glance at #SurvivorsoftheDawn!

💥Shoot Your Bolt with the Spiders
💥Deadly Burst Damage of Rockets
💥Dash through the Enemy
💥Duke It Out with the Knives Out
💥Pulse-Like Fired Laser Beams

Wishlist on Steam! https://t.co/I9BOsMCigB…#ScreenshotSaturday #gaming… pic.twitter.com/PUBc29s9wW

— Furkan Ceylan (@devfurkan) April 8, 2023
I feel this alien's attempts to rewild the Earth could benefit from a slightly more delicate touch in sandbox smash 'em up From Ashes, Bloom (coming to Steam), but you cannot deny they're getting results:
Some attack ideas from the community!#screenshotsaturday #gamedev #madewithunity pic.twitter.com/C5ysvIDgsz

— FROM ASHES, BLOOM 🔥🌱 (@FromAshesBloom) April 2, 2023
This seems a fairly simple example of finding a route in Finder, but I'm interested in labyrinthine cities, walking sims, and stealth:
#screenshotsaturday piece of gameplay!

FINDER – walking sim+puzzle+stealth game. You should explore labyrinth city named Cradle with the map to get to the main Tower.

So we work on the city and map features#indiedev #indiegame #maze #labyrinth #game #indie #madewithunreal pic.twitter.com/6dvcr5Xsqd

— FINDER (@FINDER_devlog) April 7, 2023
Dealing with a shielded foe in soulslike metroidvania The Spirit Of The Samurai (coming to Steam):
Each new threat you encounter will require a new approach to combat. You must always be light on your feet.

What do you think of our brand new shielded enemy type?

🎮 Wishlist Now: https://t.co/oVCkqLNQNM #screenshotsaturday #metroidvania #soulslike #playstation #b3d pic.twitter.com/LNe6YpwZHa

— The Spirit of the Samurai (@samuraisgame) April 8, 2023
And your mandatory grappling hook action this week is provided by metroidvania Rusted Moss (coming to Steam tomorrow, with a demo there now):
Hey #screenshotsaturday !

Check out Rusted Moss, our grappling hook metroidvania, coming out in 4 DAYS!! 🎉

Creative platforming without the double jump (but don't worry, we do have a rocket jump to discover)#indiedev #indiegame pic.twitter.com/BIAd2DFhqI

— Rusted Moss (2 DAYS TILL RELEASE!!) (@RustedMoss) April 8, 2023
What else caught your eye this weekend, reader dear?