Week in Tech: MMOuse, Shield, Superwide Is Super Cool
Button it, people!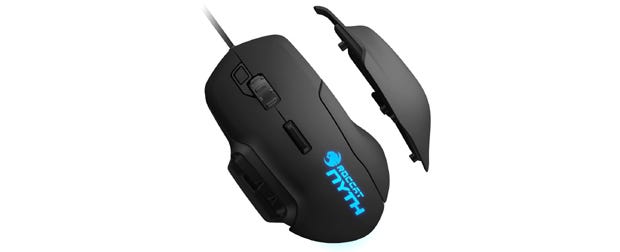 Not being hugely of the MMO persuasion, the extent to which fixed-configuration mice generate significant anguish is, to coin a Tuckerism, beyond my jaunty-bonneted purview. However, the fellows at ROCCAT are apparently feeling someone's pain and the result is the new Nyth, a modular mouse for MMOists that comes complete with 3D-printing intrigue. Rejoice. Meanwhile, I've had a little face time with both the Nvidia Shield tablet and one of those 34-inch superwide LCDs. GOP-style gut reaction to each after the jump (see, cultural references to make people happy both sides of the pond).

I may be ignorant of the apparent 'wealth' of MMO-optimised mice on the market, but it's easy enough to appreciate the need for something a bit specialised that offers a battery of buttons to quickjump through the mindfart that is MMO menus.
To date, that's been achieved by means of whatever button arrangement a given mouse maker reckons optimal. But a single mouse that suits every MMO and indeed every MMOist is a tall order. ROCCAT's solution with the Nyth is to let you decide.
I'm not entirely clear on just how much configurability is on offer. At the very least, a panel of buttons on the side of the Nyth can be re-arranged.
Buttons, buttons, buttons. Plus more buttons. And additional buttonality
Intriguingly, ROCCAT says it will provide access to the digital inventory files for the buttons, giving a reference point for 3D printing fans to create their own bits.
Also, along with the button-array modularity, the whole side-part of the Nyth is interchangeable for tweakable ergonomics. For the record, there's no word on broader specs like the DPI / resolution of the main sensor.
A ROCCAT Nyth, yesterday. Hang on, I've done that gag before...
Of course, this configurability should also make the Nyth flexible enough to turn its hand to all kinds of gaming along with broader computing duties. Could be interesting when it arrives later this year. It'll be on show at Gamescom later in August. Sadly no word whatsoever on pricing.
Next up, that Shield Tablet thing from Nvidia. I don't want to go into too much detail as I'm hoping to have more extensive face time with the thing in the near future. But an early look at the thing puts Shield the Second toward the upper end of my expectations.
Physically, it's a jolly nice thing indeed. Not absolutely the most pleasingly tactile tablet ever concieved, but certainly a high-quality item in the hand and miles ahead of the plasticky tat from, say, Samsung, that masquerades as high-end hardware.
Still waiting to see what HL2 on Android is like...
The screen is good if not absolutely spectacular and Nvidia's promises for the battery life are impressive if unproven. Oh and it runs absolutely vanilla Android and comes with assurances of regular and timely updates. Important stuff, I reckon.
The only downside to the conventional tablet aspect is a smidge more chassis thickness that I deem ideal. But only a smidge.
Conclusion thus far: Shield the Second nails the first part of the package. As a plain Android tablet, it's good enough that you'd be happy with it as an alternative to a Nexus 7 (rumour has it the Nexus 8 will actually be based on the same Nvidia Tegra chip and the Shield, which could be interesting and begs the question of whether Nvidia will unlock all the game streaming funtionality on the Nexus device...).
Next up is the game streaming shizzle. Here, much is as before. If you've got a very strong wireless connection and a good router, the image quality is great and the latency really very impressive. Things do drop off pretty rapidly in terms of IQ if the signal isn't pretty much perfect, however.
Shield the Second seems like a genuine proposition as a generic Android tablet
Like I said, I want to go into this stuff in more detail in a separate post. But the streaming functionality remains all kinds of interesting.
Finally, there's the native / on-device gaming. On this I can't really comment. I saw Trine 2 running and looking very pretty. But the Valve gubbins (Half-Life 2 etc) wasn't installed, which was a pity. I remain highly suspect in general of the notion of propping up a tablet and playing games with a wireless controller.
But it's early days for the tablet as a pukka gaming form factor, so maybe a usage model will emerge. I've been wondering about a clip-in keyboard and plug-in mouse, but time will tell.
Finally, superwide LCDs. The 21:9 aspect isn't new. We've seen 21:9 29-inch panels with 2,560 by 1,080 pixel grids. They were fun but felt very constrained outside of gaming. But now I've played with one of the new generation of 34-inch 21:9 panels which up the ante to 3,440 by 1,440 pixels.
And there's really only one word for the result. Want. Very badly indeed. In-game, you don't really look at the outer edges of screen all that much. The subjective impact of all that peripheral imaging is truly spectacular. It's just wonderfully immersive.
Move back to a 16:9 or 16:10 screen and suddenly you feel boxed in, like you've viewing the world through a small window. Which of course you are.
Not nearly as silly as it looks...
The increased res also makes for a much better all round desktop experience, too, without going all the way to the GPU-melting pixel count of 4K. If I have a criticism it's actually that this new form factor makes we want something similar on an even grander scale. 21:9 at 40 inches, er me gerd.
There are negatives in terms of video format compatibility (and game compatibility, to boot). But for now colour me very much in the pro 21:9 camp. At least if we're talking 34 inches and beyond. FYI, prices for these new 34 inch panels kick off around £500 / $800 for that AOC model I mentioned in posts passim. So, that's hefty but not horrendous if you view – as you ought – a monitor as a long-term investment.