The Sunday Papers
Read more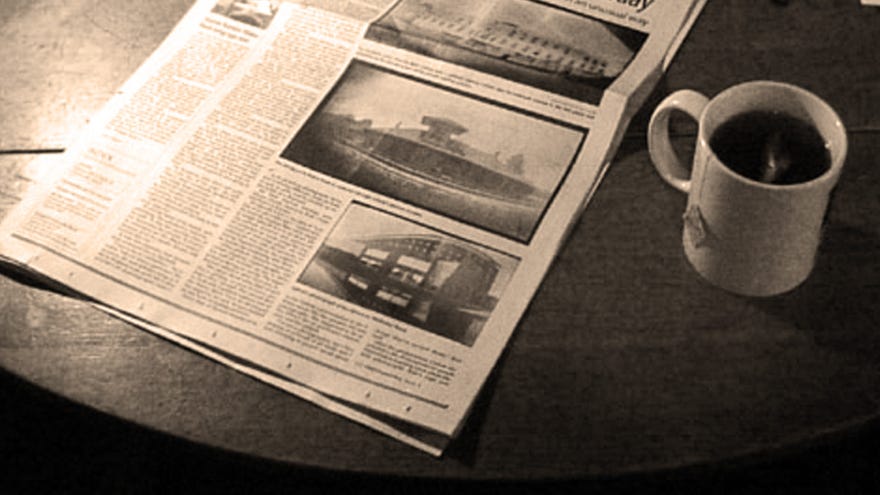 Sundays are for resting. I bet nobody's thought of that before.
Keith Stuart, formerly of Guardian fame, blogged about how there's much more to Fortnite than many people perceive. He points out that his kids see it as a social space more than as a game, more akin to a skatepark than Call of Duty. It's an exceedingly good point, and an excellent retort to the alarmist claims you might have seen in the mainstream media.
For my sons and a lot of kids their age, Fortnite is not a game they play, it's a place they go — and, importantly, it's a place they go with friends and not with Mom and Dad. It's fulfilling the same development role as those illicit teen spaces from the 1970s and '80s — those dodgy youth clubs, arcades, and video stores that we discovered unchaperoned.
Following Cecilia D'Anastasio's Kotaku article "Inside the Culture of Sexism at Riot Games", Barry Hawkins has shared his reasons for leaving the company in 2014. Between the breadth of examples in D'Anastasio's article and the detailed unfolding of this one in Hawkins', there's no doubt in my mind that Riot Games is a loathsome place to work. The incident that Hawkins' was compelled to highlight is bad enough, but it's how that complaint was dealt with that reveals how deep the roots of the problem were at the time. There's little reason to believe things have changed.
There was more talk about culture and some people being too sensitive. The head of Legal spoke up again, saying that it wasn't that hearing guys say the stupid stuff they did all day made her sad or upset, it just made her want to punch them in the throat because she was sick of having to hear it all the time. I really liked that part.

After a bit more talking, I was asked what I thought. At that point I told the group it seemed like this was supposed to be some form of corporate reformative therapy, where they kept repeating stuff then asking me if I agree until I eventually do, but I knew how I felt about it, and it wasn't going to change.
Tim Rogers wrote (and filmed) a colossal review of Dragon Quest XI for Kotaku. His enthusiasm is infectious, despite the way I've never been hooked by a JRPG and was only vaguely aware Dragon Quest existed.
Yuji Horii once called this type of narrative "a world you can feel." In the grand list of design elements Dragon Quest doesn't change over the years, this is one of the most ancient. It is one of the most low-tech. It relies on only the sleight of hand of a few words sketching a future memory in the player's brain. When a later text box incites a rememory, however inconsequential to the grand scheme of the narrative or the player character's levels or equipment, a shower of accomplishment chemicals splatters the player's cerebellum. A priest, a chemist, and a soldier walk into a bar, and they say, "That's love."
Sarah Jeong is leaving The Verge to go work at The New York Times, so The Verge has published an excerpt from her book about online harassment. You can also read a full, updated version of that book via a free PDF that's linked in the Verge article, which I now intend to. Jeong was herself recently the target of a bad-faith campaign to get her fired that involved taking old tweets of hers out of context, but both the Verge and the NYT have rightly stood by her.
Online harassment, amplified on axes of gender identity, race, and sexual orientation, is an issue of social oppression that is being sucked into a policy arena that was prepped and primed by the RIAA in the early 2000s. The censorship of the early internet has revolved around copyright enforcement, rather than the safety of vulnerable internet users. And so we now tackle the issue of gendered harassment in a time where people understand policing the internet chiefly as a matter of content identification and removal—and most dramatically, by unmasking users and hounding them through the courts.
Paul Kilduff-Taylor starts his piece on the 10 non-existent secrets to indie game success by pointing out that Frozen Synapse 2 is out soon and this article will be good for marketing purposes. I'm linking to it because it contains smart advice that's relevant beyond the bounds of indie development, but also yes, I'm happy to draw attention to Frozen Synapse 2. Frozen Synapse was ace.
Outside of projects which are specifically part of a well defined learning process (maybe 'learning to finish something', as I discussed above), doing something "that seems sensible" is a dreadful idea. I've seen teams pitching for funding who clearly cobbled something together simply because money is offer, in the hope that they could pay themselves for a bit to work on something relatively interesting. Don't do this: it's a waste of everyone's time.
As reported by Amelia Tait, KSI had a boxing match with Logan Paul. If children getting psyched to see blood pouring down someone's face wasn't troubling enough, there's homophobia too.
With celebrity, however, comes scrutiny, and there is much that is worrying about this event. I think of Poppy as blood pours down Jake Paul's face, and had he not won, I would have almost certainly seen crying young fans. Homophobic and toxic insults are thrown around in diss tracks (Paul sings that KSI has "dick up in ya ear", while KSI raps that he would "beat the manhood out the bitch"). This has rubbed off on fans, with one at the event renaming their phone wifi hotspot "LoganSucksDick".
It looks like the Chinese government is behind a string of audacious heists to reclaim art that belongs to them, as Alex W. Palmer reports for GQ. I enjoyed reading about the thefts, but I most enjoyed learning that Queen Victoria was given a stolen Pekingese dog that she named Looty.
The government, meanwhile, was sanctioning its own efforts via a web of overlapping state agencies and Communist Party–affiliated NGOs. In 2009, a year before the Stockholm heist, the efforts got more serious. Beijing announced that it planned to dispatch a "treasure hunting team" to various institutions across the U.S. and Europe. Museums were left clueless about the purpose of the mission. Were the Chinese coming to assess collections, to conduct research, or to reclaim objects on the spot? More importantly, who, exactly, were the visitors gathering information for?
After a long break, Andy Kelly is exploring Other Places again. Here's Shenmue and Yakuza 0, looking all pretty like.
Chris Bratt explored how E3 conferences are put together in his latest People Make Games video. Personally, I preferred the bedraggled Just Dance panda.
Music this week is Ed Alleyne Johnson's Oxford Suite Part 1. Or maybe just all of Purple Electric Violin Concerto.