The Sunday Papers
Read more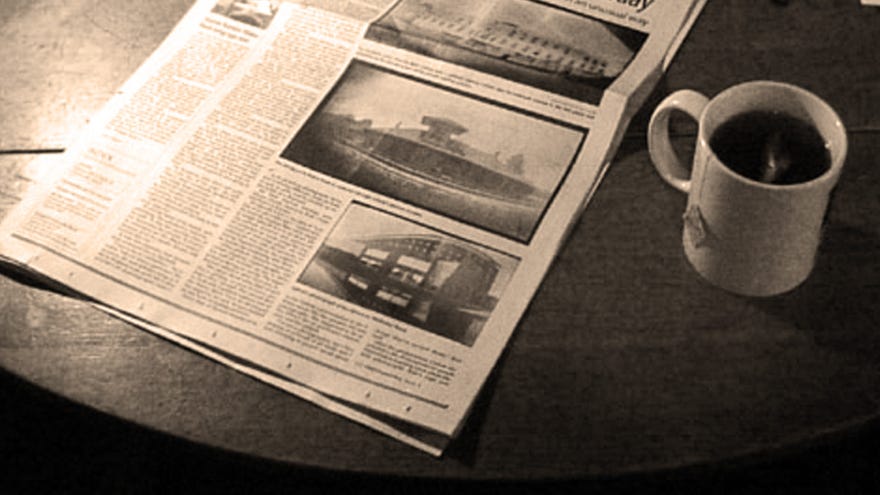 [Liam wrote this in time for the long weekend like the good man he is, but then I biffed the scheduling. So have it a couple of days late, with my apologies to you all. -ed.]
Sundays are for staring wistfully out of a window and wondering when your friend Ed will return from his adventures. Before you let out a long sigh, let's read this week's best writing about games (and game related things).
In his weekly newsletter for the Guardian, Keith Stewart laments the recent cancellation of this year's in-person E3, highlighting the loss of access an event like E3 offers to journalists that can't be replicated by a glut of sterile, online showcases.
What we're losing are moments of genuine shock and surprise – the very things we look for in entertainment. Video games aren't just another arm of the tech industry, they're not just products – they're tactile, they're interactive, they're culture, they're art. If we really want to understand the people who make them and why they make them, we need to see and hear from those people in an environment where things aren't tightly scripted and rigorously message controlled. Very often a digital showcase is just a compilation of trailers book-ended by an excitable, carefully picked presenter. But a live stream from an E3 showcase showed an audience in a theatre reacting with cheers and ovations. And to be in that audience when something big happened – it was a thrill. People feed off the buzz of other people – it's human nature.
Following the passing of legendary composer Ryuichi Sakamoto last week, Mat Ombler has documented his effect on the world of video games. Featuring quotes from Jesper Kyd, Takeshi Furukawa and Yuji Naka, it's clear that Sakamoto's influence on the way games sound cannot be understated.
What makes the loss of Sakamoto so tragic is that he's been there since the very beginning of video game music and his music has always paved the way for 'what's next' from video game composers. Yellow Magic Orchestra's warm synth sounds will always be synonymous with the chip tunes that blared out of arcade halls and home computers in the '80s. The progressive sounds of his solo album 'The Fantasy of Light and Life' echo through the soundscapes of Japanese games released in the '90s while his film scores have informed how video game composers approach soundtracks for some of this generation's best-selling games.
Simon Parkin's excellent podcast My Perfect Console will be recieving two episodes a week for the month of April, meaning there's no better time to dive in if you haven't already. I'd recommend starting with his episode featuring Jake Solomon, the designer of XCOM and Marvel's Midnight Suns. It's a fascinating, entertaining and earnest conversation with Solomon who - at the time of recording - had just left Firaxis for pastures new.
As our resident Video Boy, it would feel wrong not to recommend something audio-visual. The impeccable Jacob Geller recently released a video about Wanted: Dead that I really enjoyed. Geller does not like Wanted: Dead (neither did our Ed, to be fair) but he can't help but be fascinated by its various eccentricities. It's a fun watch.
Music this week is Tropic Morning News by The National. The Sad Dads are gearing up to release their next album, and every single so far has been a... well, banger isn't the right word for it. What do you call a song that makes you bop your head while deepening your malaise? Anyway. You can listen to it on Spotify and YouTube.
Ed will be back next week. I've already found an excuse to schedule a meeting with him so he can tell me all about his travels.