The Very Best Of RPS 2012: Gaming Made Me
You Are What You Complete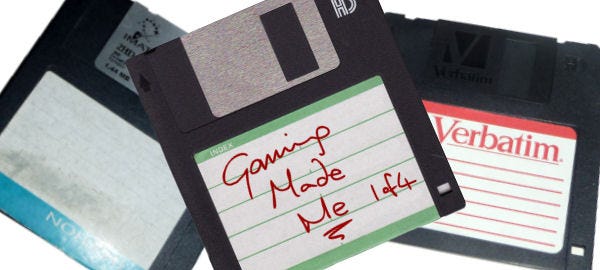 As Space Year 2012 fades into the unreachable yesterday of history, we at RPS have developed preservation technologies that allow us to transmit past articles toward the future. So it is that we're able to capture some of the highlights of the site from the last twelve months, and as with every year, among the highest of those heights are the Gaming Made Me entries. These reflections on games aren't nostalgia, but rather personal accounts of defining moments, and that's what makes them special. 2012's are every bit as splendid as ever.
If you want to catch up on the complete history of Gaming Made Me (it can only be a matter of time before someone writes a Gaming Made Me Made Me), Alec compiled everything from last December backward here. It's such an extraordinary collection. And now to add to that collection:
The series first appeared in 2012 in September, when RPS was surprised and delighted to find itself referenced in the latest track by hip hop star Jean Grae. After tweeting our squee (squeeting?), Grae's publicist got in touch with John to ask if we wanted to interview her. Sure, John thought, but how can that really be relevant to RPS? A Gaming Made Me! it was suggested. And so it was, as John chatted to the amiable dedicated gamer about what role gaming had played in her childhood, teenage years, entry into the hip hop scene, and what part it continues to play in her life.
Come November, Dan Gril snuck backstage after a gig by Jonathan Coulton, and spoke to the Still Alive singer about the games that had defined him, from Gun Fight to Tomb Raider, and his own programming days beginning on the Commodore.
Gaming Made Patricia Hernandez
Commissioning a Gaming Made Me from another journalist is always interesting. You don't quite know what's going to arrive in the inbox, and you're not quite sure if they're really going to get what makes the series so special. When Patricia's arrived it was instantly forwarded around the Hivemind with exclamation marks. It's an absolutely stunning piece, so beautifully written, capturing childhood experiences many won't have experienced, making them feel completely relatable. Not just a Gaming Made Me highlight, but an overall highlight for RPS 2012.
And then it happened again. Cara's interweaving tale of a teenage trip to the jungle, and a childhood spent with Lara Croft, is another of the best articles on RPS this year. Not only providing a fresh perspective on the narrow-waisted heroine, but also managing to make a walk for a wee seem like an Indiana Jones-style adventure, Gaming Made Me once more produces a laser-edged insight into a writer's influences and personality.
And you'll be pleased to learn that Nathan's GMM is coming up before the holidays are through.