Wordle cheating is "rampant", with thousands looking up the answer every day, study suggests
But the number of cheaters seems to be dropping
Thousands of people are cheating at Wordle by looking up the answer and popping it in as their first guess, according to a new study of players' daily guesses.
Watch on YouTube
James Dilger's study of Wordle guesses between May and August suggests that up to 10,000 people are simply cheating their way to a perfect score. (Thanks, Discover.) As Dilger points out, the chance of guessing the word on your first go is around 0.04% - meaning that only around 860 players should be nailing it on the first guess.
Instead, anywhere from 0.2% to 0.5% of people are managing to pull off a first-turn win in Wordle's normal mode, with Dilger converting that to between 4,000 and 10,000 players based on Wordle's 1.7 million daily users.
"At least 5-times as many people as expected were "guessing" the target word by "chance"!" Dilger writes in the study, adding that the number "happens consistently every day".
There are some other telltale signs, too, such as unlikely words suddenly spiking in popularity on the days where they also happened to be the answer.
"What serious Wordle player would choose NANNY as a first guess? You'd be testing only 2 vowels and 1 consonant!" Dilger observes.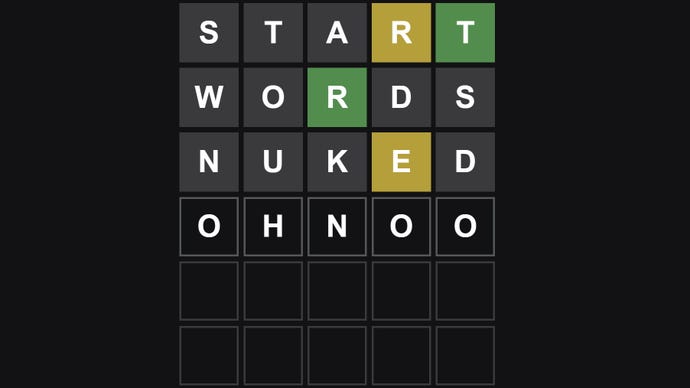 Even so, the number of cheaters also seems to be gradually dropping over time, with Dilger proposing "Are cheaters getting bored with Wordle, or have they just been on summer vacation?" for the trend seen during the three-month study.
Hardcore Wordle players playing the game's hard mode - which forces them to use any correctly-guessed letters in subsequent guesses - also cheat a little less, Dilger found, with only around 0.3% of those players typically guessing correctly on their first go.
Dilger's in-depth dive into Wordle stats also found that at least a third of players have a favoured starting word - or multiple that they rotate through - and stick with their starter even if it appears as a solution, which only leads to around 10% of players swapping to something else afterwards.
As you might've guessed, ADIEU - roundly considered to be the best Wordle starting word due to its combination of vowels - takes the lion's share of guesses with 8%. After it appeared as the answer to "most popular starting guess in Wordle" in a New York Times crossword in August, the word gained an additional 30,000 fans who started to use it as their opener.
"Wordle is known as a game of luck and skill. What I set out to do here is to show that Wordle is much more than that," Dilger's study concludes. "There is rampant cheating (just as in real life), loyalty (whether deserved or not), and influence (for good or evil, who knows?)."
And hey, if you're one of those people looking for the sweet satisfaction of solving Wordle, why not use our handy Wordle Solver Tool?