Xbox Game Pass, the monthly subscription games buffet, is coming to PC
A fork pass for your knife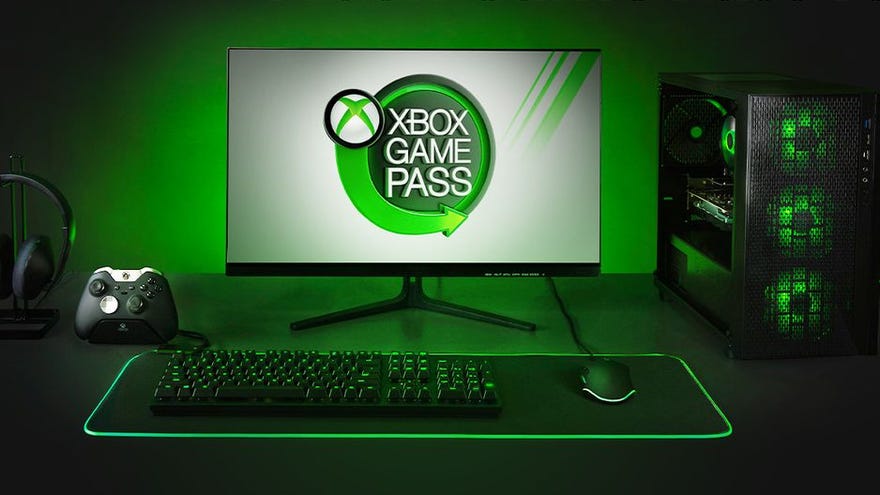 Xbox Game Pass is one of those subscription thingos you can get for your consolebox, which lets you play from a big library of games. It's not a streaming service, exactly. You can download the games on your Xbox One and play them whenever (as long as they remain in the big library o' fun). That subscription service is coming to PC, Microsoft have confirmed. It'll have its own PC-specific library, but a terribly confusing name: Xbox Game Pass For PC. Which is a bit like calling something "Football Season Pass For Ice Hockey" or "Ultimate Fork For Your Knife". But basically all you need to know is that you'll be able to pay an unconfirmed amount of monthly quids to rent a bunch of games.
The subscription will offer a library of over 100 games on Windows 10, said Phil Spencer in a press release, and he has listed a bunch of publishers who are on board: Bethesda, Deep Silver, Devolver Digital, Paradox Interactive, and Sega. Presumably that means a bunch of shooters and grand strategies from the collective back-catalogue of those big game-mongers. But Spencer also suggests new releases will come out on the subscription too.
"Just as we committed on the console, it is our intent to include new games from Xbox Game Studios in Xbox Game Pass for PC the same day as their global release, including titles from newly acquired studios like Obsidian and inXile."
We haven't been told the monthly price of this yet. Xbox Game Pass for the Xbox currently costs £8/$10 per month, so it might be around that mark. Microsoft will talk about it more at E3 in June, so we will probably get a price soon, plus a better idea of exactly which rent-a-games will be on their big list.
It's worth repeating this won't to be a way to own tons of games for cheap, because those games will be still be removed from the library whenever Microsoft decide to do so (although they do "notify users prior to a game leaving the Xbox Game Pass catalog" according to this Game Pass FAQ). On Xbox One, for example, you can't play your downloaded subscript-o-games after they get yanked from the catalogue, even though they aren't physically deleted from your console. The PC counterpart is likely to follow suit. Like I say, it's big rental deal, which is fine.
We also sort of already knew this was going to happen, thanks to an earnings report last year. But now it's confirmed. Bargain-chasers might also be happy that the pass will give discounts up to 20% on games in the spinning library when you buy them on the Microsoft Store. But studios under the big Xbox Games Studios umbrella (studios like 343 Studios, Obsidian and Undead Labs) still want to sell games on other stores like Steam, said Spencer. He cites the recent promise of Gears 5 and the Halo: Master Chief Collection coming to Steam as proof of that egg-spreading.
"We know millions of PC gamers trust Steam as a great source to buy PC games," he said, "and we've heard the feedback that PC gamers would like choice. We also know that there are other stores on PC, and we are working to enable more choice in which store you can find our Xbox Game Studios titles in the future."