BenQ EW2770QZ review: If only its contrast was as good as the rest of it
Compare and contrast
It's not often that gaming displays make headlines during the yearly tech bonanza of CES, but this year Nvidia unveiled its gigantic 65in 'big format' screens with all the G-Sync bells and HDR 4K whistles you could possibly imagine. We have no idea how much they'll actually cost right now - probably somewhere in the region of £1500/$2000, I suspect - but personally, I just can't see myself having one on my desk. Maybe in the living room if for some ungodly reason I wanted to get rid of our TV, but not 30cm in front of my face.
For me, a 27in 2560x1440 monitor is still the perfect sweet spot for my PC gaming needs, and the BenQ EW2770QZ on test today is one such monitor (how about that for a seamless segue?). Can it break into our best gaming monitor rankings? Let's find out.
When you first set it up, the EW2770QZ makes a great first impression. It's beautifully slim, with tiny 5mm bezels surrounding each side of its 27in IPS panel, and the screen itself looks every bit as lovely as my calibrated AOC Q2770PQU. There's a small blobby bit protruding from the lower edge - more on that in a minute - but otherwise its smart black and silver stand and base cut a fine profile on your desk.
In truth, I'm a little disappointed by the lack of height adjustment here - I'd expect more flexibility than just a bit of monitor tilt for a £400/$400+ screen - but on the whole it wasn't too much of an issue. Laptop users looking for a second screen, on the other hand, will probably want to park their monitor money elsewhere (such as the lovely Acer XF270HU), as even my small 13in work laptop obscured a large part of the Windows task bar. You could always wall-mount it, of course, but no one wants that kind of faff now, do they?
As a PC monitor, though, there's plenty to like about the EW2770QZ. Most importantly, its colour accuracy is very high across the board, requiring little to no tweaking with a colour calibrator to get the best out of it. On its default Standard mode, for instance, my i1 DisplayPro showed it was already displaying 98.8% of the standard sRGB colour gamut, which is just as well as none of its ten picture presets actually let you manually alter its RGB values apart from User mode.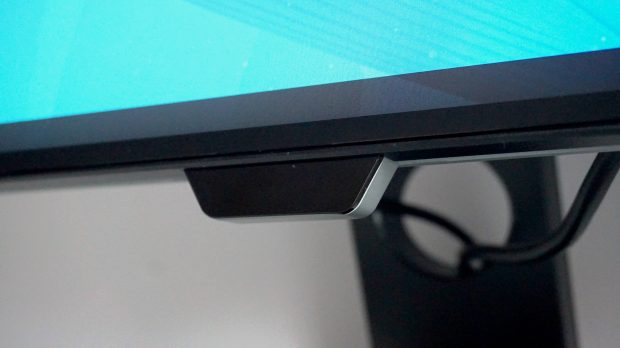 The EW2770QZ's max brightness also reached an impressive 340cd/m2, giving you plenty of flexibility to turn it up or down depending on your lighting conditions. Really, you'll probably want something closer to 200cd/m2, if not lower, for everyday use, but if you'd rather take the hassle out of adjusting it yourself, you can always activate the EW2770QZ's Bright Intelligence+ feature in the main menu system.
This uses the monitor's aforementioned blob bit to detect the colour temperature and ambient light levels of your current surroundings, producing what should hopefully be an eyeball friendly picture to help eliminate strain and fatigue. In theory, this should mean the monitor looks warmer and dimmer in low light, and cooler and brighter when it's daytime. It can also dynamically adjust its brightness to reflect what's currently onscreen, helping make sure bright areas aren't overexposed while darker bits don't get lost in the shadows.
In practice, it's all pretty subtle. Brightness shifts happened in small, just-about-perceptible increments, but were never overt enough to be off-putting. Meanwhile, the colour temperature changes were stealthier still, and I barely noticed it was happening until I came back to my desk after making a cuppa mid-afternoon and found that Google Docs was just a bit yellower than when I left.
There were a few occasions when the sensor couldn't quite make up its mind about what brightness level it wanted to settle on, but I suspect I was more distracted by the little eye icon that appeared in the bottom corner telling me that things were happening than the brightness adjustments themselves. Once I turned the 'light meter' off in the main menu, it became a lot less irritating.
It's a good thing to have, really, as the EW2770QZ's contrast level is arguably its greatest weakness, measuring just 940:1 on Standard. That's not bad, but it's not brilliant, and murky scenes in games like Little Nightmares or grey, misty mornings in Skyrim just didn't have the same kind of depth or impact as they did when I ran them on my AOC. Switching to its Game picture profile didn't help either, as the contrast here came in at just 860:1.
It doesn't help that the monitor's black levels aren't great either, with its Standard preset coming in at a comparatively high 0.33cd/m2 (the closer to 0.00cd/m2, the better). I'd expect this from a cheaper TN display, not IPS, and I was disappointed that the onboard contrast controls did little to improve the situation.
This is a shame, as brighter, more vivid games such as The Witcher III looked stunning on the EW2770QZ. Indeed, the Northern Kingdom's rich, painterly blue skys and gorgeous sunsets looked just as bright and vibrant on the EW2770QZ as they did on my AOC, and even ducking into shadowy forests did little to dampen the experience. Fire up a game with lots of caves and other dingy locales, however, and it all starts to fall apart at the seams slightly. The ambient light sensor helps, but isn't quite enough to paint over the cracks completely.
I'd also like to see a few more ports for maximum flexibility at this kind of price, such as a USB hub or DVI-D, but I'd imagine most people would be perfectly happy with its pair of HDMI ports, headphone jack and single DisplayPort.
Were the EW2770QZ's contrast and black levels a bit better, this would definitely be a strong monitor in the £420/$400 ballpark. Ultimately, though, I think I'd rather pay a bit more and get the Acer XF270HUA (which is still on sale for £500/$590). I appreciate that's quite a lot more for those in the US, but until I get a few more monitors in for testing, the Acer remains my top recommendation for the time being. After all, not only does the Acer have a superior panel with better contrast and black levels, but its height-adjustable, rotatable stand also gives you buckets more flexibility for a wider variety of uses.
The BenQ EW2770QZ, on the other hand, feels a bit more limiting. It's splendid in some areas, but nose-wrinklingly irksome in others. If its specific strengths fit your niche, great. But for those who want a more versatile 27in 2560x1440 monitor on their desks, the Acer XF270HUA is still a tough act to beat.