Bring back infinite money cheats
And in the game...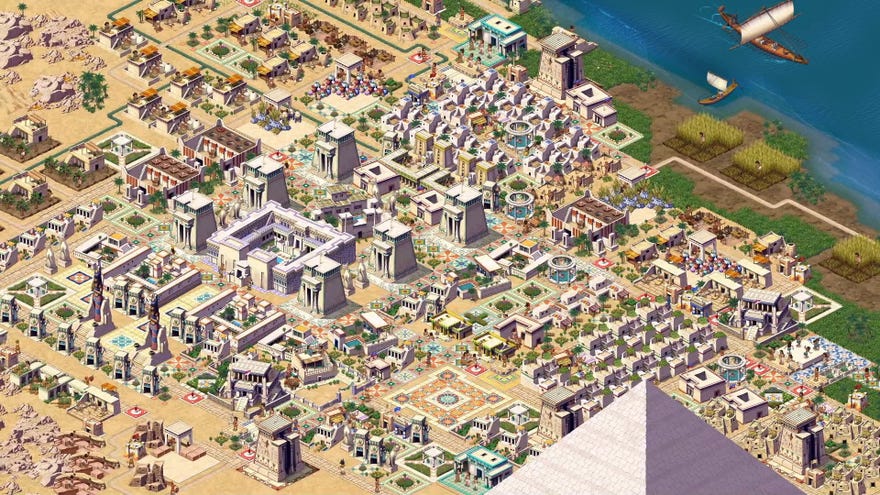 Last night's announcement of a new Pharaoh remake has me in a strangely nostalgic mood this morning. I was quite young when the original Pharaoh came out on PC, and much like the other two building games my older brothers had on our family PC at the time - Theme Park and Theme Hospital - my feeble child brain wasn't really cut out for playing any of them properly. I enjoyed the act of building my own little town and making lovely neat streets and vague districts with loads of housing in one bit and lots of farms in the other, but I never really progressed much beyond that.
Instead, I was all about the infinite money cheats so I could play exactly how I wanted to without worrying about the actual 'game' bit of it. It was brilliant! I remember staring at those empty Bullfrog theme parks and thinking, "Yes, today I'm going to build my dream Chessington World Of Adventures and nobody's going to stop me." Now, though, I look at all of today's best and loveliest city-builders and feel a pang of despair. What happened to those infinite money cheats? Someone should bring those back.
Read the rest of this article with an RPS Premium subscription
To view this article you'll need to have a Premium subscription. Sign up today for access to more supporter-only articles, an ad-free reading experience, free gifts, and game discounts. Your support helps us create more great writing about PC games.
See more information