Dell Inspiron 15 7000 Gaming (Late 2017) review: Now with added Thunderbolt 3
An inspired gaming choice?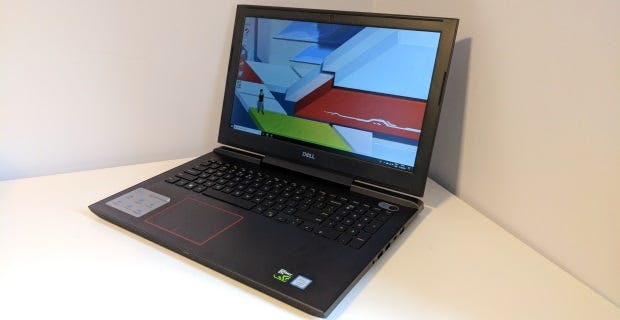 Gaming laptops are a funny old business. As we discovered with the frankly ludicrous MSI GT75VR Titan Pro, phenomenal cosmic graphics power you can (sort of) take on the move often comes with an equally planetary-sized price attached to it, making such laptops seem like indulgent extravagances compared to an identically-priced desktop. Even entry-level gaming laptops like Dell's Inspiron 15 7000 Gaming series demand at least 899 of your hard-earned pounds, and even then you're only getting one of Nvidia's GTX 1050 chips for your trouble. With that kind of money, you could buy yourself a fully-fledged GTX 1070 desktop that will see you through many more years of high quality gaming and give you the flexibility to upgrade in the future.
It all begs the question about whether gaming laptops are really worth it? Indeed, when Alec reviewed the GTX 1050 Ti version of this very Dell Inspiron 15 7000 Gaming laptop earlier in the year (the 7567 edition), he concluded that its sub-par screen and bulky chassis weren't quite up to snuff for its £1000 asking price. It also lacked a Thunderbolt 3 port, effectively hampering any potential upgrade work if you wanted to add a more powerful external GPU at a later date. Today, I'm going to see if Dell's latest refresh of its Inspiron 15 7000 Gaming series - the 7577, to be precise - is any better.
I've listed the main specs below for those who want a complete rundown of what's inside this thing, but let's start with the good stuff first - that absent Thunderbolt 3 port is now alive and well, giving this particular set of Inspiron 15 7000 Gaming laptops a significant advantage over their older counterparts. Sure, connecting an external GPU isn't the most elegant or cost-effective way of powering up a gaming system, but it's almost certainly going to be cheaper than buying a whole new laptop in a couple of years time. Of course, that might feel like a kick in the teeth for anyone that bought one of these earlier in the year, but hey, there's always going to be something missing, isn't there?
Intel 7th Gen Core i7-7700HQ Quad Core, 3.8GHz, 6MB Cache
Nvidia GeForce GTX 1060 6GB
16GB DDR4 2400MHz
256GB PCIe NVMe M.2 SSD + 1TB 5400 rpm HDD
15.6" 1920x1080 anti-glare IPS screen
Dimensions: (H) 24.95mm (0.98in) x (W) 389mm (15.32in) x (D) 274.7mm (10.82in)
Weight: 2.65kg / 5.82 lbs (higher depending on graphics card / hard drive configuration)
Case in point, Dell still hasn't done much about the Inspiron 15 7577's 15.6in IPS display. The £1399 model on test here has a regular 1920x1080 resolution, but there's also a 4K version available on the highest spec for £1599. Honestly, though, if the quality of that panel is anything like the Full HD version, then I don't think the extra £200 will be money well-spent. Yes, you do get a super fast 512GB NVMe SSD as well at that price (the top Full HD model that I'm reviewing here only has a 256GB NVMe SSD), but personally, I can't see it being a worthwhile upgrade.
In its defence, the Full HD screen I tested had a respectable contrast ratio of 1229:1 and black levels were a reasonably inky 0.20cd/m2 (the closer to 0.00cd/m2, the better). As a result, darker images had plenty of detail in them, and its viewing angles didn't fall apart when I tilted the screen back.
The main problem is its appalling colour accuracy, as my X-Rite i1 Display Pro calibrator revealed it was showing just 57.2% of the sRGB colour gamut. This is pretty shocking for an IPS display, and all of my test images just looked bland and lifeless. It's not that the screen made things looked bad per se, but its severe lack of red coverage meant images were really rather lacking in warmth and overall vibrancy.
It doesn't help that the screen's overall brightness maxes out at 250cd/m2 either. This is fine for everyday use, especially if you're going to be working on it for long periods of time, but good grief does it make it hard for games to look their best.
It's a shame the screen is such a dud, really, as this particular model's 6GB Nvidia GeForce GTX 1060 chip made a very compelling case for it as an on-the-go gaming machine. I can't say its Max-Q design made much of a dent on the fans' overall noise levels, but the thought of being able to fire up Hitman on Ultra out and about and still be able to play at a comfortable average of 50fps is certainly a tempting one.
The same goes for Rise of the Tomb Raider, which managed a steady 48fps average on Very High in its notoriously challenging Geothermal Valley benchmark, and a near perfect 57fps in its Mountain Peak zone. Doom and Wolfenstein II: The New Colossus also went down a real treat, regularly hitting 60fps (and beyond, in Doom's case) with everything turned up to max.
I saw a few more fluctuations in Total War: Warhammer II, but even zooming in within an inch of a Lizardman's spear only saw a drop to around 45fps on Ultra. Elsewhere, battles ran at a smooth average of 50fps, edging higher when fully zoomed out, while the campaign map saw the camera glide over the land at a near-perfect average of 59fps.
I had to dial back some of the settings for Middle-earth: Shadow of War, but the default Very High profile still produced a respectable average of 50fps in busy crowd battles. The Witcher 3, meanwhile, struggled to run much above 40fps on Ultra, but High suited it much better, rarely dipping below 50fps when going toe-to-toe with pesky griffins.
Assassin's Creed Origins proved to be the biggest challenge, as even High resulted in regular drops to around 45fps when entering towns despite running at a silky smooth 55fps and above out in the wider world. To be honest, though, it's not something I would have noticed too much had I not had a frame rate counter running in the bottom corner of the screen.
That said, it's clear the GTX 1060 has its own set of limitations when you're aiming for the highest quality at 1920x1080, which makes the 4K option of this laptop seem like an even greater folly than it did before. As things go, though, this is still an admirable performance considering this model's sub-£1400 asking price, and I certainly wouldn't be too miffed if I could take something like this on the road and still get a highly competent gaming session out of it. I'll admit it's not the most beautiful laptop I've ever seen, nor is it particularly small or light. Still, I've lugged round worse in my day, and there's something oddly appealing about its red Dell logo and grille-style design.
Even so, it would have been nice to see one of Intel's new 8th Gen processors here instead of the 2.8GHz quad-core Core i7-7700HQ, but truth be told, this is still more than enough for both gaming and everyday office use - especially when combined with 16GB of RAM and that aforementioned 256GB NVMe SSD.
Windows 10 zipped along during daily tasks, and its single and multi-core scores in Geekbench 4 (3853 and 11727, for those that want such granular detail) showed no signs of foul-play in its overall performance. The SSD, meanwhile, wasn't quite as lighting fast as MSI's GT75VR RAID concoction when I put it through Crystal Disk Mark, but with sequential read and write speeds of 2749MB/s and 1078MB/s respectively, there's hardly much to complain about. For those that want the latest and greatest, however, I'd recommend holding out a little longer, as there's bound to be an 8th Gen refresh just around the corner.
The backlit chiclet keyboard was also very comfy for typing on. Keys had a decent amount of travel to them and the generous wrist rest made typing up this review an absolute breeze. I'll admit there's a fair amount of space between each individual key, but I never felt like this hindered my general typing ability or overall typing speed. There's also a full-sized number pad on the side, and its large touchpad worked like a dream when I used it to scroll and pinch-zoom without the aid of a mouse.
Around the outside, you also get an SD card reader, a combined headphone and microphone jack, a Gigabit Ethernet port, three USB3.1 ports and an HDMI 2.0 output for connecting the Inspiron 15 7577 Gaming up to a VR headset or an external 4K display if the previously mentioned Thunderbolt 3/USB Type-C port is already in use for something else.
There's even a fingerprint scanner on the power button (pictured above) for extra security when signing into your Windows account. You can set it up using Windows Hello, and it worked pretty well when I tried it out for myself. That said, now that I've got used to waking and unlocking my phone with a single touch, the need to press the power button to wake it first and then touch it again to use the scanner is a bit of a faff. Still, at least it beats re-entering your password for the millionth time every time you log in.
Does all this make the Dell Inspiron 15 7577 Gaming a good buy, though? I have to say, the screen is a pretty major setback in my book, and ideally I'd want something with a much better display both for gaming at home and on the go for this kind of money. That said, the GTX 1060 model I've got here puts in a pretty convincing performance as a portable powerhouse, and it's not so hideous that I'd be embarrassed being seen with it in public.
As a result, the Inspiron 15 7577 Gaming gets a cautious recommendation, as I think you'd struggle to find another laptop with exactly this kind of specification (CPU, storage and graphics) for much less, whatever model you end up going with. Just glancing at Scan's GTX 1060 laptop section, for instance, shows that cheaper models either have a Core i5 processor or only come with a 3GB GTX 1060, not the full fat 6GB edition. Then there's the classic screen dilemma which I can't give a verdict on until I've tested them in person.
All things considered, the Inspiron 15 7577 Gaming looks to be a decent option compared to the competition (until we get more in for testing, that is), and provided you can make peace with its lacklustre screen, the Full HD GTX 1060 version certainly won't disappoint when comes to on the go gaming performance.