MSI GT75VR Titan Pro review: The ultimate gaming laptop if you're willing to sell a kidney
A laptop that really does cost an arm and a leg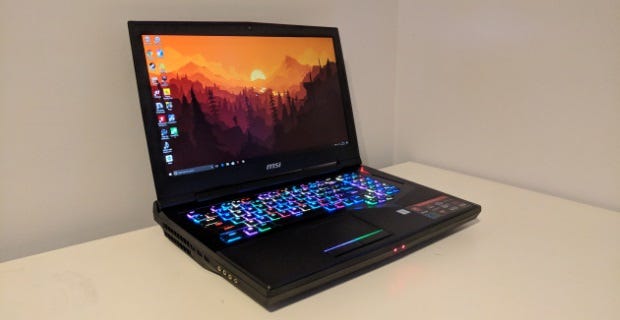 We've looked at our fair share of gaming laptops at RPS over the last year, but nothing has been quite so preposterous as MSI's new GT75VR 7RF Titan Pro. This three grand mega laptop has the complete works: an Nvidia GTX 1080 chip paired with a quad-core 2.9GHz Intel Core i7-7820HK processor and 32GB of RAM, a 17.3in, 120Hz Full HD display (which I can only assume to be IPS because MSI neglected to specify), a mechanical Steelseries RGB keyboard, a super fast 512GB NVMe SSD and a 1TB HDD.
It's a ridiculous piece of machinery, made even sillier by its enormous size. Measuring a colossal 428 x 314 x 58mm and weighing a back-breaking 4.56kg, this is going nowhere except the middle of a very large, sturdy desk. Even if you did manage to lug it somewhere, you wouldn't be able to get much out of it away from a plug socket anyway, as I barely managed an hour of gaming on it with the screen set to half brightness.
But let's be honest. Who has £3,099 to spend on such a thing in the first place? Not many, I'd wager. Yet, as a neat, all-in-one solution for both high-end gaming and semi-portable VR, the GT75VR does hold a certain appeal. So let's forget how much it costs for a moment, and just revel in what this crazy machine's capable of, shall we? Because we all sort of wish we had a rig like this, and it's nice to dream such things might one day be within reach of us mere mortals.
Starting with that GTX 1080 graphics chip, the GT75VR is truly a no compromise laptop. Nearly every game I played took full advantage of the extra headroom provided by the screen's 120Hz refresh rate, with Doom and Wolfenstein II in particular looking smoother and more polished than BJ Blazkowicz's chiselled jaw line in all their Ultra, Mein Leben glory.
The GT75VR also saw Hitman's Agent 47 pushing through the Paris fashion crowds without the slightest hint of hesitation on the highest graphics setting, and it even took Rise of the Tomb Raider's notoriously demanding geothermal valley in its stride, with nary a performance dip as the benchmarking tool swooped through its dense, misty forests. Total War: Warhammer II was equally confident on the battlefield as well, with each of our Lizardmen rushing into combat without a hitch.
Even turning off Shadow of War's dynamic resolution feature on Ultra wasn't a problem for the GT75VR, with frame rates remaining well over 60fps throughout. The same goes for Assassin's Creed Origins, where sailing across Siwa's rippling lake and charging through crowded streets on a camel felt as smooth as sand falling through our fingers. Some games, of course, like The Witcher III have their frame rates locked at 60fps unless you start fiddling about with the config files, but needless to say, the GT75VR coped handsomely with everything - Hairworks, shadow quality, the lot - turned on at Ultra at 1080p, so it shouldn't have any problem running at higher frame rates if you feel so inclined.
MSI hasn't spared any expense on the screen itself, either. Despite not disclosing its actual panel type, my tests showed it had practically perfect picture quality (covering 99.5% of the sRGB colour gamut if you're into that sort of thing). Black levels were a touch higher than I'd like, all told, but its high brightness and decent contrast ratio more than made up for it. The screen also scored highly on more professional-grade colour scales, too, making it a great fit for video and photo work as well as gaming - particularly when all that graphical heft is backed up by a supremely capable Intel Core i7-7820HK processor.
If you're rather game at 60fps and bump up the resolution, however, its HDMI port on the rear is fully-geared up for connecting it to an external monitor, whether it's 4K or something with an even higher refresh rate like Asus' PG248Q. There are also mini DisplayPort and USB-Type C connections, plus Gigabit Ethernet, five USB3 ports, an SD card reader, headphone and microphone jacks and line in and out jacks.
And that storage. Good grief, the storage! Sitting equally in the top of the line category as everything else on this laptop, the GT75VR has two super fast 256GB NVMe SSDs RAIDed together to produce one giant 512GB speed demon, with sequential read and write speeds hitting four digit MB/s figures - like, over 3300MB/s read and 2,700MB/s write if you really want to get technical about it. A regular SATA-based SSD, by comparison, normally has read and write speeds somewhere in the low hundreds. With this NVMe concoction, on the other hand, we're looking at getting to the main menu of something like Rise of the Tomb Raider in under ten seconds, which is pretty impressive. If that wasn't enough, there's also a regular 1TB HDD for when you run out of space. It's nothing special in the speed department, but no one turns their nose up at an extra 1TB HDD.
The SteelSeries Rapid mechanical keyboard is pretty grand to type on, too. After my recent conversion to mechanical keyboards, the GT75VR deepened my love of them even further, despite the half-height Enter key and slightly squished-in number pad on the side. The individual RGB-lit keys are perhaps a bit much, if I'm honest - I'd be tempted to charge people to come and see the disco mode lightshow (see below) and put the proceeds toward buying this damn machine - but thankfully all illumination can be adjusted or turned off completely using SteelSeries' easy-to-use Engine software. Throw in a large, responsive touchpad and dedicated right and left mouse buttons and you couldn't possibly ask for more.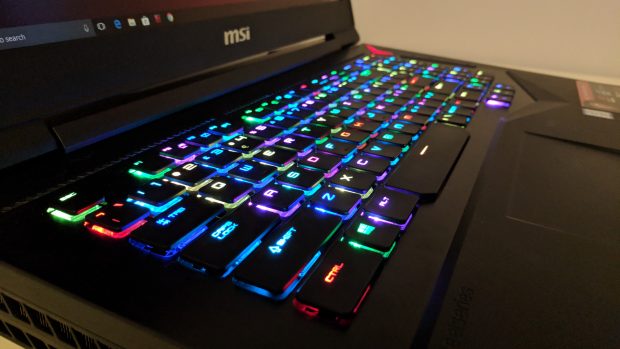 Well, there are a few more things I'd like. Quieter fans, for one, as these kick up quite a fuss when playing games. This is to be expected, of course, and I've yet to see a laptop even as ludicrous as this one offer a better, more ear-friendly solution. Indeed, the GT75VR's 2.1 speaker system does a reasonable job of masking the fact this might actually be a jet engine in disguise about to take off through your window, but while the speakers are certainly better than other tin jobs I've seen, nothing truly captures the throaty death moans of Doom demons quite like a proper headset. The wrist rest and touchpad are also prone to picking up greasy fingerprints, marring its otherwise top notch build quality.
Then, of course, you remember the GT75VR costs £3099 and all those hopes and dreams fly out the window again. There is a slightly cheaper version with less storage for £2,598 from Scan, but still, it was nice to think about while it lasted, eh? All joking aside, though, the GT75VR could well be a reasonable investment if you were a developer, for instance, and needed something powerful enough to take on the road to shows and conventions to showcase your game, particularly if you needed it for VR. For everyone else, though, go and apologise to your current PC and we'll pretend this conversation never happened.