Dota 2 Shanghai Major - What You Need To Know
Who's playing and how to watch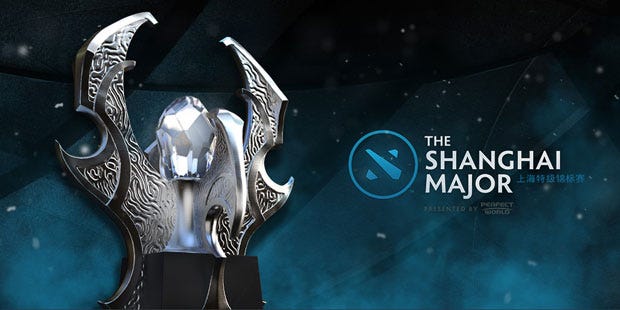 If there's one thing professional Dota 2 [official site] isn't lacking (besides lengthy pauses at the start of every game) it's tournaments; it's rare for a week to pass without some hype-casted LAN, online contest or qualifier.
The one about to start in a gigantic spaceship-shaped building in China, however, is no ordinary tournament - it's the Shanghai Major. Here's what you need to know:
The Shanghai major what?
No, the tournament's actually called the Shanghai Major. As of last year, Valve is sponsoring three uber-tournaments for Dota 2 - in addition to its own, The International. The Shanghai Major is the second of these competitions, following the Frankfurt Major last November and to be followed by the Manila Major in June.
Hokay. So how does it work?
Sixteen teams, punching it out in group stages for favourable seeding in the double-elimination LAN finals, all for the biggest possible share of a $3,000,000 prize pool. Eight of these teams won their place through the regional qualifiers, while the other eight were directly invited.
And who are they?
Well, let's take a look at the contestants through the prism of the various groups.
Group A
CDEC Gaming (China)
EHOME.cn (China)
MVP Phoenix (South Korea)
Team Secret (Europe...mostly)
EHOME are big favourites, following a barnstorming run through the recent MarsTV Dota 2 League. This was, in fact, the first time a Chinese team had won a top-tier international LAN in eight months, an achievement that will surely boost EHOME's morale going into Shanghai.
CDEC, by contrast, have struggled to find results ever since their shock 2nd place finish at TI5 last summer. That said, carry player Aggresif is still deservedly known as one of the most terrifying fighters in the business, something the all-Chinese squad will be looking to exploit.
Team Secret are also on a disappointing run. This once-dominant all-star team seem to be in a permanent state of shock after losing the Frankfurt Major grand finals, and knockouts have been commonplace even with carry player EternalEnvy's propensity for audacious plays. MVP Phoenix are the biggest underdogs here, though - they've never really able to translate their success in the Southeast Asia region into international victories.
Group B
Alliance (Sweden)
Fnatic (Malaysia)
Team Spirit (CIS)
Vici Gaming (China)
Alliance are currently enjoying a dream comeback, ending a long slump with two consecutive LAN wins over the winter. Both offlaner AdmiralBulldog and support Akke have been putting on clinics with their signature heroes, Lone Druid and Chen.
Fnatic are, like MVP Phoenix, a team that sits fairly comfortably on top of the SEA region but tends to falter against international opponents. A flawless run through the qualifier playoffs will give them high hopes, and veteran midlaner-turned-carry Mushi should never be underestimated, but they still face an uphill struggle against Alliance and Vici Gaming.
Speaking of which, VG are a funny one, consistently placing 3rd-4th but only occasionally taking home the gold. Still, a team that has managed to stay so near the top for so long is definitely one to be feared, especially with the legendary support duo of Fenrir and fy.
As for Team Spirit, there's some old blood in there - such as ex-Na'Vi captain Goblak - but their pushy, aggressive style is truly cemented by their teenage talent, RAMZES666 and Iceberg.
Group C
LGD Gaming (China)
Newbee (China)
OG (all over the shop)
Team Archon (USA)
Another Chinese powerhouse, LGD gave Western teams something to think about by taking 2nd at World Cyber Arena 2015 - all while led by fan-favourite captain rOtk, whose volatile playmaking is always a joy to behold even if it ends in his death.
A roster refresh has reversed the fortunes of Newbee, who went from first at TI4 to last at TI5 and floundered for months after that. This January, a respectable 2nd place at the Shanghai Dota 2 Open proved that Newbee were once again capable of taking on the best, helped in no small part by the return of captain Hao and the poaching of Invictus Gaming support ChuaN.
Winners of the Frankfurt Major, OG's subsequent performances have been solid enough that they could well make it it two in row - though they might well be smarting from the EG-inflicted rout they suffered at at MarsTV Dota 2 League in January. Watch out for a recovery on the back of midlaner Miracle-'s preposterous technical skills.
Team Archon, however, face a tough fight for survival. They have a few top-four tournament placings under their respective belts, though this will be their first real test outside of the infamously unstable NA Dota scene, and in a stacked group to boot.
Group D
compLexity Gaming (USA/Sweden)
Evil Geniuses (USA)
Team Liquid (Europe)
Virtus.pro (CIS)
Fun fact: four out of five CompLexity players played together on the super-successful Heroes of Newerth team stayGreen. While more recent victories have been limited to qualifiers, don't be surprised if their current momentum helps them put up a fight in the group stages.
The same goes for Team Liquid, who sailed through the EU qualifiers without losing a single match. Another, slightly less fun fact: Liquid's exclusion from the direct invites in favour of Alliance caused some fairly tedious controversy amongst fans, at least until the latter's winning streak.
Virtus.pro were the single CIS team who did receive an invite, though arguably thanks to their long-term consistency rather than a recent flurry of golds. Nonetheless, few would argue VP don't have what it takes, especially since signing Team Empire veteran Silent as their new carry.
Finally, we have Evil Geniuses, champions of The International 2015 - plus Arteezy. They've been convincingly outperforming their old nemeses Team Secret with a streak of podium finishes - though having failed to halt the resurgences of Alliance and EHOME, both of whom have beaten them in grand finals, EG will need to stay sharp.
Okay, okay, when is it going down and how can I watch it?
Online group stages kick off on 25 February, while the on-stage LAN finals take place at the Mercedes Benz Arena between 2 and 6 March. The full schedule for groups and the main event is here. You can watch in the game client for free, via Steam Broadcasting or on the DotaMajor Twitch channel.
Jolly good. Anything else?
1. As you might have guessed, there's a Compendium you can buy if you want to make predictions and earn in-game goodies. It's part of the Winter 2016 Battle Pass.
2. On the final day of the main event there's a Dota 2 orchestral concert which will offer up renditions of the Dota 2 music.
3. Also, as an aesthetic FYI, the trophy is made to look like a Mystic Staff which is an in-game item that grants 25 points of intelligence. The Frankfurt Major got an Eaglesong (which gives 25 agility points) so it's logical to assume we'll see a Reaver (25 strength points) for the Manila Major. Currently Frankfurt is definitely winning in the cool trophy stakes.
Eagles are pretty great.
The group stages kick off on 25 Feb at 9am CST (which works out as 1am GMT on 25th and 8pm EST on the 24th).