Dune's Oscar-nominated screenwriter is penning Netflix's Gears Of War film
Gearing up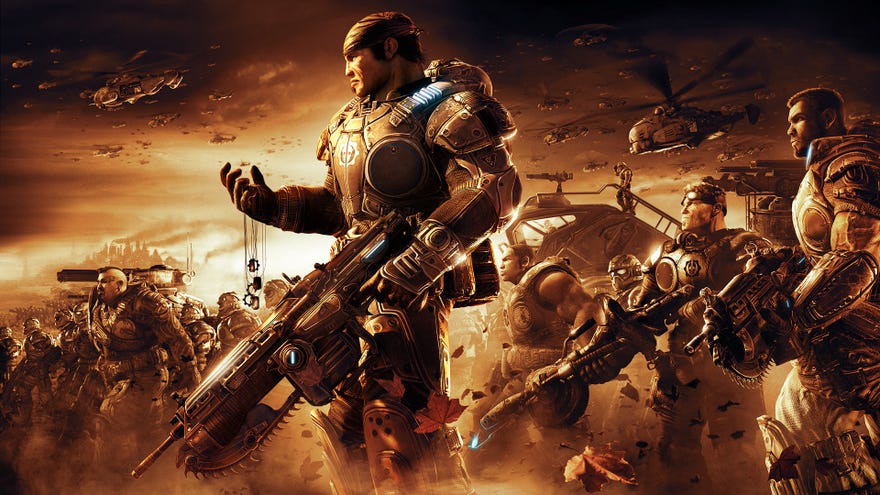 Netflix's take on chonky soldiers vs. equally chonky underground aliens is, excuse me, gearing up. Last November, the streaming service announced plans to adapt Gears Of War's chainsaw-swinging into an animated series and a live-action film. The latter has now tapped a writer. Jon Spaihts is the Oscar-nominated screenwriter behind Dune, Prometheus, and Doctor Strange, and he's now writing the Gears Of War film, Netflix announced today.
In a statement to Variety, Spaihts says that "Gears of War is one of the all-time great action games," and that its "combat system drives home the lethality of war and the importance of standing by your squadmates." He's clearly a man of good taste, and I'm sure he voted for active reloads in our What's Better series, joining the 34% of us who were of sound minds. Although, his comments that Gears "wants to be cinema" sent a shiver down my spine.
Developers The Coalition are just as excited, saying to Variety, "Jon is a master storyteller with a talent for creating epic, science-fiction universes, and he truly loves Gears Of War." They continue, "We couldn't ask for a better partner to honour the franchise and deliver and authentic story to our fans." Spaihts is an experienced writer when it comes to adapting geeky material, so I have hope that Gears Of War will be one of Hollywood's good video game adaptations (Sonic, Arcane, The Witcher) and not one of the bad ones (Doom, Hitman, The Witcher).
There's no word on casting or directors, but since Dave Bautista replaced John DiMaggio's Marcus Fenix in a setting for Gears 5, the wrestler-turned-actor seems like a good choice. He's beefy enough, he's hilarious and loveable in the right role, and he's been publicly pining for this one, too.
I prefer my Locust-slaying with a controller in hand, so it's a shame we'll need to wait "for some time" before we see the beefy bros back in action. Speaking of bros, Gears 5 is one of our favourite co-op games, and Ed also has a lovely supporter post about his tradition of playing the Gears campaigns with a buddy.