Football Manager 2017 pass-and-save diary, part two: Enter the Tinkerman
Bringing va-va-voom to Leicester City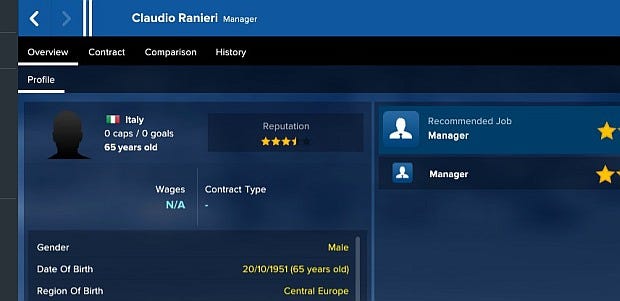 Ian Football's long brown raincoat hides four people inside: Pip, Adam, Alec (who already took his turn) and me, Graham. It's now my turn in our pass-the-save (or pass-and-save, geddit) playthrough. Our mission: take control of Premier League champions Leicester City in Football Manager Touch 2017 and perform better than they are in real life.
Where Alec has limited experience with football, I watch half a dozen matches every weekend. I haven't spent much time with FM16 or 17, but I spent many thousands of hours playing previous iterations so that shouldn't matter. I also read a lot of Football Manager fan fiction as a teenager, in which people would embellish after action reports with imagined details of their manager's personal lives.
I thought about this as I kissed Mrs. Football goodbye on Wednesday morning, before climbing in my Renault Clio (the car of Footballs) and beginning the drive to work. I burped, detecting the taste of the Venky's chicken (the meal of Footballs) I'd eaten the night before.
Catch up on the season so far with the previous diary:
Reaching the offices-- enough of that. Looking through the menus, I discover Leicester's current situation isn't as bad as I'd feared. Alec has led the team to 11th in the league after 8 games spent. If I could hold that position come January 1st I'd consider my time with the club a success, and if I could qualify the team for more Champions League football in the new year, that'd be the va-va-voom of a Venky's chicken.
My first move? Switch the slightly unhappy Kasper Schmeichel back to being our first choice keeper; he was the team's favored pick during the league-winning season, and I'm not wowed by Ron-Robert Zieler's performances in the season thus far (13 conceded in those 8 games). I also squeeze Danny Simpson in at right back, pushing Andreas Beck to the bench, but I may rotate them over the next few games. Lastly I switch up Alec's flat and old-fashioned 4-4-2 for a 4-3-1-2, with Okazaki deployed as an attacking midfielder behind the strike force of Slimani and Vardy. This lets us get more of our best players on the pitch, but I'm more generally determined to find a tactic that fits the team against any opponent. It was the Tinkerman which led Leicester to success last year and I intend to follow in his footsteps - only with slight adjustments to his foot positions with each step.
I take a look at the fixture list and: oh good. Our next match is away to Chelsea, who in the real world are currently sitting pretty at the top of the table. In Football Manager world they're 7th, but I still don't much fancy our chances.
When match day comes, I've already set my side up in every way except team instructions. I set the mentality to 'counter', since that's primarily how Leicester were so successful last year, while also telling the boys to Get Stuck In with their tacking and to Be More Disciplined in terms of their build-up play when in possession. I want a tough, cautious but quickly counter-attacking side.
16 minutes in, Danny Simpson concedes a penalty. That's the player I re-introduced to the side tackling the way I told him to. I cancel the Get Stuck In order at half-time; just call me the Tinker Man. Then come the 60th minute, with the scoreline the same, I switch formations for a 4-2-3-1, bringing on Wes Morgan in place of Vardy to compensate for the more attacking midfield. Slimani equalises on the 71st minute, and Mahrez makes it 2-1 to us on the 86th. Then Pedro equalises for Chelsea on the 91st minute, and that's how the game ends. This was a rollercoaster of a first match and a good re-introduction to Football Manager.
In the next match, we crash out of the EFL Cup in spectacular fashion by losing 2-0 to Bristol Rovers, a team from two leagues below us. I am going to say that's because I rested all my best players, but please note that this is a lie.
Back in the Premier League, we're up against Burnley. The press predict an "easy win", but I'm still nervous - Burnley are currently 13th in the league and only one point behind Leicester. If we lose this weekend, we could end up tumbling down to 15th.
Regardless, I decide to start the game with confidence, playing with the 4-2-3-1 that turned around the Chelsea game for us. This means dropping Vardy, who hasn't scored in five starts, and running with Slimani (9 goals in 15 games) as our sole striker with Okazaki as shadow striker behind him, Mahrez as inside forward on the right, and Albrighton as a supporting winger on the left.
It doesn't work. 1-0 down on the 70th minute, I tinker again, switching Slimani for Vardy and throwing the mentality to attacking. We equalise on the 82nd minute, but it's still a disappointing result and the team slumps into 12th place in the league.
In the days that follow, Kasper Schmeichel goes to the press to say that he's unhappy with the amount of first team football he's had. He's been my first choice keeper in the three previous games which means this is an odd time to go complaining in public, but I'm happy to tell him I'll do the thing I'm already doing. He says he hopes I'll keep my word by doing the thing I am already doing.
Next we're playing against Lyon at home in the Champions League. Now my nerves are of a different sort: Alec won two and lost one of his Champions League games, putting us top of the group. I don't want to screw that up, even if Lyon were the team to beat us in the away match.
I'm still hunting for our ideal formation, and so I switch things up yet again. I go for a 4-4-1-1, dropping Albrighton and Mahrez back into the midfield but keeping Okazaki as shadow striker behind Slimani as the sole man up front. I also tell the team to work the ball into the box and to try direct passing. I've switched to short passing by the 30th minute though at the advice of my assistant, since although we're bossing midfield we're not getting much possession in the final third. We've only had 2 shots and 1 on target by half-time.
Back to the tinkering. I drop Amartey from midfield back into defence, take Wes Morgan off in place of Jamie Vardy, and set up a 4-3-1-2 with both Slimani and Vardy up front. Ashley Young scores for Lyon on the 51st minute, then Alexandre Lacazette on the 59th makes it 2-0. My central defender Huth is having a dire time of it. I pull Okazaki back a bit, from shadow striker to attacking midfielder, to try to get better link-up play between midfield and my strikers. This produces immediate results when Vardy then scores on the 70th minute, but that's as far as the comeback goes and we lose the match 2-1. This instantly dumps us from top of our Champions League group to third. For which I blame Alec - sure, we were top before, but only by a point!
The next two matches are in the Premier League, with the first against West Brom. They're in 13th place, we're in 12th, so there's something immediately at stake. The good news: I don't lose. The bad news: I don't win. It's my third straight draw in the league, which means West Brom don't overtake me in the table but I do drop from 12th down to 14th.
In our next match against Sunderland, I keep the formation the same but tell the team to move faster and close down more often. We're 2-1 down by half-time, as our defence is ripped apart by long balls over the top. This is a pattern I've noticed in game after game: our defenders can't deal with lofted balls up the middle. I don't know why we're so vulnerable to route one football given that Robert Huth is like fifteen feet tall. I make a few half-time tweaks but it's no good. By 58 minutes in, I'm 4-1 down, with all Sunderland's goals scored by Jermain Defoe. Vardy pulls one back - he's scoring regularly now - but Sunderland get another in the closing minutes to end the game 5-2. It's my first league defeat, it's a doozy, and Leicester plummet into 16th place.
I need to re-think everything. Tinkering got me in this mess, tinkering will get me out of it, I'm sure. For my next game, against bottom placed Dinamo in the Champions League I switch to a 4-1-2-3. This places a defensive midfielder in front of my back four to protect against those balls over the top, and has the three up front in a triangle with Vardy alone, Mahrez behind and on the right as an inside forward, and Demarai Gray on the left as a supporting winger.
We win 3-0, with goals from Mahrez, Huth, and a cracking free kick from Fuchs. It could have been more: Vardy had another goal disallowed. Leicester are back in second place in the Champions League group with one game to go.
Back to the Premier League and we're up against Watford. Finally - a game I'm relatively confident we can win. I look at the league table and... Watford are third! They're third in the league behind Liverpool and Manchester United! I'd say this was unrealistic and a blatant spot of bias since Football Manager is the real world sponsor of Watford, were it not true that Leicester are real world Premier League champions and that this is far less likely. I stick with my Dinamo dynamiting formation and have more shots on target than Watford, but the game ends 0-0. It's yet another draw and I am still yet to win a game in the premier league. After the match I'm informed that Slimani has played over seven hours of football without scoring a goal. We remain in 16th place and I want to have a lie down.
December 1st rolls around. I've one month left in charge before passing the saved game on to either Adam or Pip, and some good news has just appeared: due to changes to the club's finances, "the board is in a position to offer a transfer budget of £29.5m." That's a substantial amount with which to play in the January transfer window, and with which to bolster this flagging squad.
The good news keeps coming. I beat Bournemouth in our next match 1-0, controlling the game from the start in terms of possession and shots. It's not wholly convincing but it's my first win in the premier league since taking over (I've only lost once too, mind) and it bumps Leicester back up to 12th place.
In the Champions League, I've got my last group match before - hopefully - advancing to the next round. It's against Napoli, who are top of the group and ahead of me by one point. A win will see me through while a draw will put my fate in the hands of the other match between Lyon and Dinamo. I decide to play conservatively, switching formations to a 4-1-4-1. This packs the defence and midfield but leaves Vardy isolated up front. I also set the team's mentality to defensive.
To my surprise, it works. By offering Vardy less support than in any other game this season, he suddenly showed up. He scored on the 4th minute, finished with a match rating of 8.7, and we won 3-1. Leicester qualify for the next round and best of all do so at the top of the group, giving us a better shot of facing a less-good team in the second round.
I stick with this tactic for the next premier league match against 9th placed Southampton and... It works here, too! Vardy gets another goal and we win the match. This keeps us in twelfth place on 19 points.
We draw Borussia Mönchengladbach in the Champions League, which is a decent outcome. We could have ended up playing Barcelona.
Although it leaves no room for Slimani or Okazaki as permanent features of the squad, it feels as if I've at last hit upon a tactic that works. We continue to not only win but win convincingly and defeat Swansea 2-0 in the league, in which Vardy nets another two goals. He's now scored 4 in the last three matches across all competitions, and Leicester now sit in 10th position in the league. This is a turnaround from just a few weeks ago when I was becoming worried that I'd be passing a team at risk of relegation on to the next manager. There are four games to go though, so a lot can still change.
And it changes quick. My next match is against now 3rd place Manchester City, and though I frustrate them for 60 minutes and have a few good counter-attacking chances, we collapse in the closing 20 minutes and lose 2-0. We drop down to 13th place. We're still there after the next game, a 0-0 draw with 12th placed Crystal Palace in which we perform better but can't get a goal. My self-congratulations over finding a tactic that worked is starting to look premature, but thankfully a 1-0 win against bottom placed Middlesbrough pushes us back up to 10th. And that's where we remain at the end of my next and final match, a victory against Stoke where we're 0-1 down at half-time but come back to win 2-1 thanks to another brace from Jamie Vardy.
Phew - my time is done. As I climb back into my Renault Clio and begin the drive home to Mrs. Football, I reflect upon the last few months in charge. I've led the team to qualify for the next round of the Champions League and in 12 Premier League games, I lost two, drew 5 and won 5. Our league position has improved by a single position. Across all competitions, I won 7, drew 5 and lost 4, and our form had notably improved over the course of my time with the team, as 7 of those wins were in my last 10 games. This feels like an accomplishment and I'm hopeful about the future.
I'm hopeful we're having chicken for dinner tonight.