Football Manager 2018 will change scouts, stadiums, AI and more
Scout's honour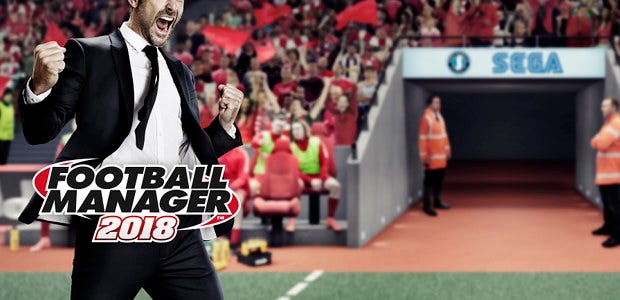 Harry Redknapp is not a wheeler-dealer. The subs bench is not a bed. Transfer deadline day is not suitable for work. Transfer deadline day is your entire existence now.
I've been waiting to see what's new in Football Manager 2018 [official site] since the release of Football Manager 2017. A short transfer window spoof video from Sega and Sports Interactive doesn't reveal an enormous amount, but overhauled scouting, fancy-looking stadiums and a mysterious 'dynamics' system are all teased, along with AI improvements on and off the pitch.
Improvements to mid- and long-term squad-building AI would be as welcome as a return to the days when spending twenty million quid on a player wasn't considered to be scraping the bargain bucket. I play out very long careers between one Football Manager release and the next, and the gaps in AI managers' knowledge become clear quite quickly. If they can not only build their teams intelligently but adapt them to their specific needs and tactical tendencies over a few seasons, I'll be delighted.
That ties into scouting. Football Manager has to change along with the real life game, and the way clubs find new talent is changing all the time. Hopefully this scouting update will mean different kinds of reports and data analysis, as well as more assistance for players who want to concentrate on match-day tactics and squad cohesion.
And it's that last that might give a clue to what these 'dynamics' are all about. Football Manager looks at a player's role on the pitch and overall familiarity with tactical systems, but it doesn't seem to care all that much about how individuals work together. I like the Pro Evo way of doing things, which sees players taking on traits that affect their status in the dressing room and on the pitch. I have no idea if that's what we can expect from Football Manager, but anything that moves the in-game players from bundles of stats and figures to something more like RPG characters would pique my interest. It's one of the aspects of Motorsport Manager that I enjoyed.
Expect more in-depth insight into the new features over the coming weeks. The game isn't out until November 10th.