Have You Played... Championship Manager 2 Italia?
Gooooooaaaaaaaal.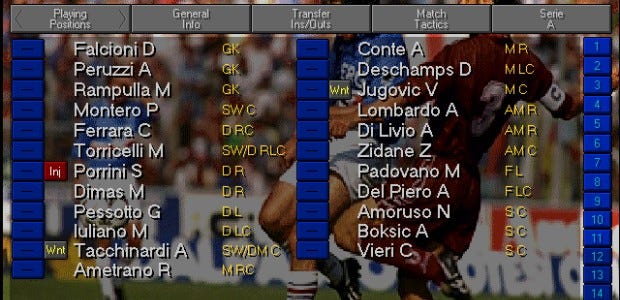 Have You Played? is an endless stream of game recommendations. One a day, every day of the year, perhaps for all time.
Football Manager didn't always come with such a huge selection of leagues and nations. Back in the early days of its life as Championship Manager, leagues were separate games on separate discs: one for England and Scotland; one for France, Germany, Spain; and one, which I had and loved, for Italy.
As far as I can tell, Italia wasn't ever sold as a standalone edition, but was bundled on a separate discs with certain copies - perhaps a yearly update - of the base Championship Manager 2. A friend of mine had bought the game and found he had two free discs containing Italia inside, and so he sold me one of them for £2. I took it home and fell in love.
I was already obsessed with football at the time and looked forward to watching Channel 4's Football Italia every weekend. That meant that I knew all the player names, much more so than I did those in the English league, and I could speed through a season or two which watching the world's slowest, most defensive football on TV. I had multiple epic careers, the longest of which lasted into 20-something seasons, and I still remember the plotlines and regens that kept me so fascinated.
Unfortunately - or perhaps luckily - you can't ever go back. I still own the same CM2 Italia CD, but some form of dilapidated DRM error stops it from booting. I've bought new copies, but to no avail. Even when I can get a version of it run, the database doesn't quite match up to my memory - players in the wrong place, a season or so changed from the starting points I remember - or the menu buttons are square when they ought to be rectangular.