Have You Played... Heavy Bullets?
FPS roguelikelike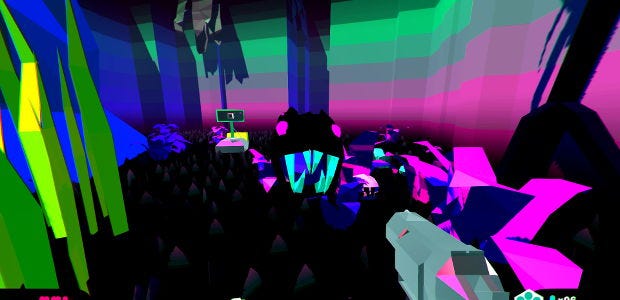 Have You Played? is an endless stream of game recommendations. One a day, every day of the year, perhaps for all time.
Six bullets in the cylinder of a snubnosed revolver is a good limitation to build a roguelikelike around. That's Heavy Bullets [official site], an FPS kicking you into a procedurally-generated indoor jungle with only six bullets. You can collect and reuse your bullets, but that's not much use when they're spent on the other side of the room and a chirping mutadog is charging towards you.
You may find spare bullets as you crawl through the neon jungle, but pauses to reload and recover bullets add interesting punctuation to combat. A good rhythm is always nice in FPS combat, creating interesting patterns of behaviour to master - consider how Doom's shotgun makes you move. Heavy Bullets isn't quite that fancy, but it's pretty fun.
As you go deeper into the complex, more enemies appear, requiring new tactics to defeat them. You can find power-ups to help, some stranger than others, and a cash system with persistent banking lets you pick items up from vending machines or deposit them for future use.
It could use better level generation. Every now and then you come across an interesting combat space where the combination of enemies and their placement requires quick thinking on your feet, but too often it spits out a mess of a corridors. Shame. I had a pleasant few hours, though, and perhaps you might too.