Have You Played... You Have To Burn The Rope?
Because you have to.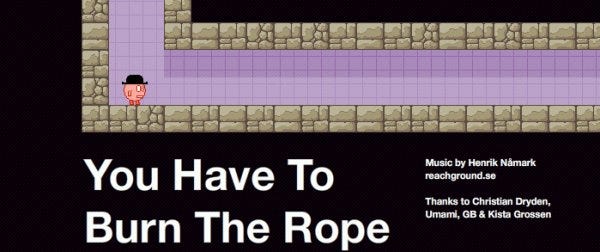 Have You Played? is an endless stream of game recommendations. One a day, every day of the year, perhaps for all time.
Yesterday's meme, today! It is, however, always possible that some of you missed out on You Have To Burn The Rope, possibly the most fiendish and inscrutable game of 2008.
2008 wasn't so long ago, but I think we'll agree that games have really dumbed down since those halcyon days. Indeed, where once we needed to read the words 'you have to burn the rope' and then ascertain quite how we would burn the rope, now all we need do is simply watch an NPC burn the rope for us. Kids today, they don't know they're born. I'll bet they've never once burned a rope. If ever they did encounter an unburned rope, they'd just expect Captain Price to turn up and burn it for them.
Disgusting.