Don't Know Why You Say Goodbye: Halo's Multiplayer Saved
Chief concerns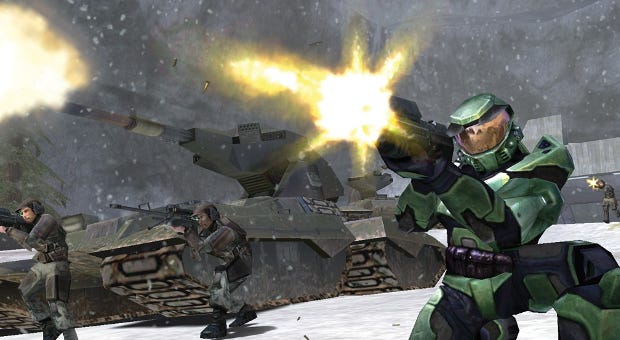 Everyone, buckle up. It's time to feel old. Here's some history for you: Halo: Combat Evolved for PC has been up and running for nearly 11 years. Also, I had totally forgotten that it was handled by none other than Borderlands creator Gearbox back when they almost exclusively developed ports of games like Half-Life and, er, Tony Hawk's Pro Skater 3. THESE ARE ALL TRUTHS, incontrovertible building blocks of the life you snooze your way through, blissfully unaware. Halo, however, was all set to get a halo of its own, courtesy of GameSpy's impending closure. Fortunately, an Australia-based service called GameRanger has stepped in to save its online multiplayer at the last second.
GameRanger will offer support for Halo: Combat Evolved, Halo's demo, and the mod and map oriented Halo: Custom Edition. So hurrah! Halo Anderson and all the rest of the series vibrant characters and settings are saved.
(I'm being facetious. I actually like Halo pretty well, all things considered. Halo ODST is the best game in the series, though YEAH I SAID IT.)
GameRanger has previously rescued similarly server-less games like GRID and Need For Speed: Most Wanted, so Halo will be in good company. In total, GameRanger - which sounds like the name of an unassuming disguise a GameSpy would don on a high-stakes mission - plays host to more than 700 games.
It is not, however, an official solution, and while I've never personally tried it out, I haven't heard the best things about the quality of its service. But still, this is something. Maybe a stopgap until something better comes along? Does anybody know of any other efforts to salvage Halo from GameSpy's weeping wreckage?