Go For A Walk With Granny In Lieve Oma, Now Out
Dear granny!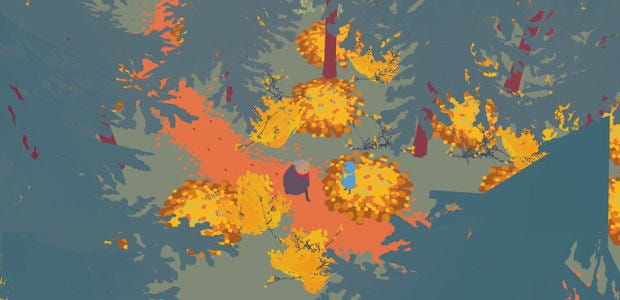 I like Lieve Oma [official site] that I helped show it in an indoor woodland. It seemed fitting for a quiet, reflective game about a child walking with their grandmother in the woods, chatting and foraging for mushrooms. I know, I know, "That Alice will like anything with flat-coloured trees" but hey, Melody dug the preview version she played too. So hey, you might dig it too, and now's your chance as creator Florian Veltman today released it on Itch. Have a look:
Looks nice, doesn't it? It is. It's small, quiet, and touching, a tribute from creator Florian Veltman to his own grandmother. Lieve Oma's granny is a dear one, gently creating space for the little one to open up about their troubles. It's sweet.
My strongest memory of my own grandmother is her going up and down our road on her mobility scooter, drunk as heck, belting out showtunes. Maybe I can make a mod.
Lieve Oma is $3.99 on Itch for Windows, Mac, and Linux.
Veltman was also one of the folks behind Endless Express, a free little game about trying to get home through a strange land by catching a series of trains following a real-time schedule. They're working on an expanded follow-up at the moment.