Priceless Play - September 15th 2018
Crunchy leaves and cold air and hot cocoa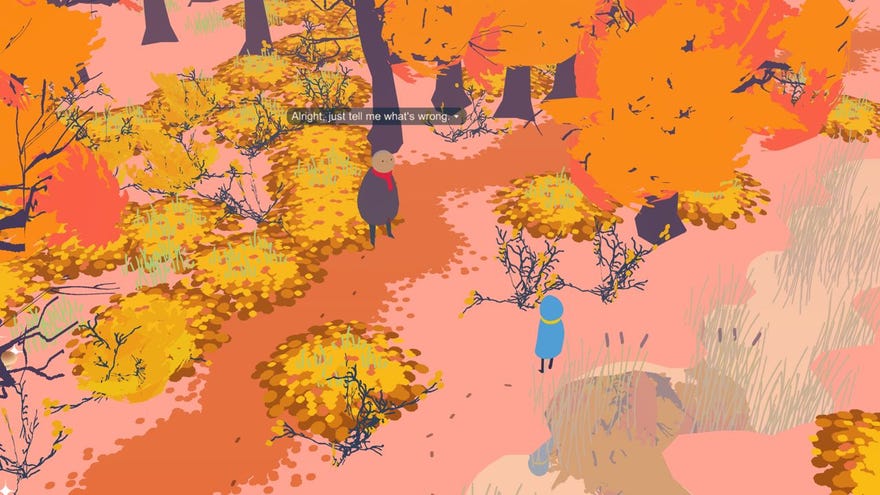 Since moving to California, I find myself missing the seasons. I grew up in Virginia, where the leaves change colour every September. When living in England, there was a yearly rotation of scarves and heavy coats to mark the coming of autumn. It seems silly to complain about the year-round temperate climate that blesses the beachy shores of SoCal, but it gets pretty boring here in paradise. Plus, I look better in layers.
This week's selection of games brings a little dose of autumn, for those who are similarly denied its pleasures or simply can't wait for the leaves to turn.
[Click the gifs to make them play something lovely]
I remember playing McLarty's Catacombs of Solaris tucked up in a hotel room bed in Nottingham two Novembers ago -- so it's possible that my memories of autumn have seeped their way into all of Ian McLarty's endless explorers. Or, as my partner calls them, "hell prisons for the eyes." Enter Forests are for Trees -- an equally colourful and meditative journey through a collection of trees (otherwise known as a wood, or forest).
McLarty describes the goal for Catacombs of Solaris as to simply, "find your favourite room in the catacombs." The goal is similar for Forests: find your favourite forest, tree, or colour and go there. It's beautiful and calming, but also a bit unnerving (I once got lost in the colour mauve). The best sort of autumn walk.
We've talked about Lieve Oma a bit before on RPS, but I think there are few games which encapsulate the feeling of autumn in the way that Veltman does here. "It is the season for penny buns," and you are out on a walk with your granny to find some. The game is a dedication to Veltman's own grandmother, and the time they spent together picking mushrooms. As you walk along, the two of you talk and give space for each other. At the end of the day, Veltman says, the game is about those who give children the space that they need.
The colours are lush and the music is dreamy -- and the leaves positively crunch underfoot. It's an emotional little mushroom jaunt.

How often has this happened to you? You are part of a coven of witches, and you are hungry. But you don't know whether or not to order some pizza! This endless struggle of hungry witches versus pizza has been immortalised in Fletcher's game, Witch Pizza. It's a quick little Twine game, doing what Twine games do best: be cute, be funny, and inspire me to get pizza. 10/10.
"Ah, the revolutionary zeal of kids from the suburbs." These picks are technically two games, but they're related so I'm counting them as one. Lost Constellation and Longest Night are supplementary games to Infinite Fall/Finji's 2016 indie darling, Night in the Woods. Created by Alec Holowka, Scott Benson, and Bethany Hockenberry alongside their successful Kickstarter campaign, Lost Constellation and Longest Night are late autumn at its finest. Though they're set in the same realm as Night in the Woods lore-wise, the two games are completely stand alone from its tentpole, and from each other. Either can be enjoyed in one sitting, though Lost Constellation is the shorter of the two if you're pressed for time.
Lost Constellation is a connect-the-dots rumination on the 13 signs of an in-game zodiac, and Longest Night is a bedtime story/platformer of skeletons, witches, and old forest gods. They are both exemplary of the rust belt Americana stylings of Night in the Woods, but in a smaller package. The realism is magical, the music is killer, and you'll be lucky to get out of this cold night alive.
There are parts of living in the desert I do not mind so much, even as the seasons carry on in other parts of the country. Cardboard Computer's game Neighbor, from 2016's Triennale Game Collection, does a good job of summing up what there is to love. There's a sort of mysticism in its denial. The Triennale Game Collection, according to its Steam page, is a "virtual exhibition of video games created for the XXI Triennale International Exhibition by five of the world's most renowned independent game designers, showcasing these artists' experimental approach to interactivity."
In addition to Cardboard Computer, the collection features works from Mario von Rickenbach and Christian Etter, Tale of Tales, Pol Clarissou, and Everest Pipkin. All of the games from the Triennale are free and absolutely worth playing, but I should add that I know some of the designers on this list, in the "We get lunch sometimes," sort of way -- Pol, Everest, and Jake Elliot of Cardboard Computer. But neither lunch nor friendship are at the heart of why I love these games, or Neighbor especially. There is an admirable persistence to the desert -- it never really seems to end. The desert in Neighbor is much the same: unchanging, endless, no time for autumns and winters. There is always something out there, something just beyond what the cactuses, crystals, and cauldrons are telling.
Looking for more free games? Check out our round up of the best free PC games that you can download and play right now.