Magnificent And Important Advent Calendar: Day Eight
Pieces Of Eight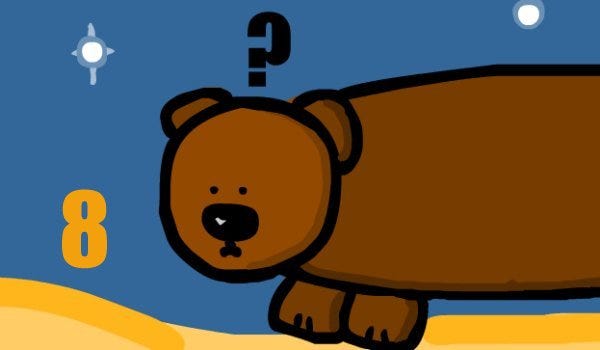 If games teach us anything, it's that there's always something around the corner. That's optimistic, right? Ah, you'd think so, but the philosophy of games is more complex. Sometimes what is around the corner is DEATH, and that's what the eighth window of the advent calendar teaches us. What could it be?

It's... Legend Of Grimrock!

John: Guilty of falling into the glow of nostalgia, when I first saw Grimrock I couldn't help but just be excited because it reminded me of Dungeon Master. That was enough at the preview trailer stage. But it could have led to far greater disappointment.
It really didn't. In fact, it far exceeded the expectations of my memories, becoming a significant source of nostalgia of its own. It was a bloody brilliant RPG, had the magic of being party based, and managed to make tile based movement feel modern.
It was also a fantastic gaming connection between my dad and me, and led to his writing some very popular posts here on the site. That was very special to me, a way of sharing my successful project with him, and one of the increasingly few games we both find in common (his ongoing obsession with Skyrim is too daunting, but I seem to have finally moved him on to XCOM.)
And it's well worth remembering that Grimrock also stood out for being difficult. While much of the most challenging sections weren't necessary to complete it, they presented some properly tough headscratchers in an industry that is increasingly prone to leading you by the hand.
Alec:
ME ALEC LOVE LEGEND OF GRIMROCK. IT GRIMROCK KING. IT GRIMROCK ATMOSPHERIC AND MAYBE SCARY TOO.
ME ALEC NEVER BEEN SO HAPPY TO LOOK REALLY REALLY REALLY CLOSELY AT LOTS AND LOTS AND LOTS OF WALLS.
ME ALEC NO LIKE IT WHEN ME FALL DOWN HOLE AND THERE IS SKELETON DOWN THERE TOO. ME ALEC PREFER PUSHING SECRET BUTTONS AND COLLECTING SKULLS FOR MINOTAUR!
IT GRIMROCK SMART TOO. IT GRIMROCK HAS CLEVER PUZZLES THAT SOMETIMES MAKE ME ALEC FEEL FOOL BUT SOMETIMES MAKE ME ALEC FEEL SMART! ME ALEC NO BOZO. ME ALEC LOVE CHALLENGE!
IT GRIMROCK, KING.