A Metal Gear Virgin's Phantom Pain Diary, Day 1: What?
Madness, wonder and spoilers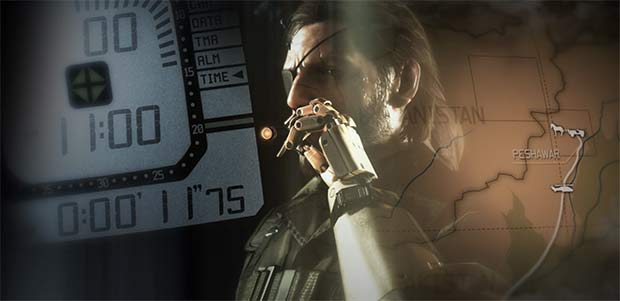 What. What?
SPOILERS FOR MGS V'S PROLOGUE CHAPTER BELOW, INCLUDING IN SCREENSHOTS. STOP HERE IF YOU DON'T WANT TO BE SPOILED STOP STOP STOP NO WHAT ARE YOU DOING WHY ARE YOU STILL READING
I have never played a full Metal Gear game. I think I did two levels of Metal Gear Solid 1 decades ago, and struggled through about an hour of Metal Gear Solid 2 before I decided I couldn't stand the cutscenes any more. The next two games passed me by entirely, but I did play the entirely of Metal Gear Solid V prequel Ground Zeroes, which I thought was a brilliant stealth game underneath its preening shell. It changed my opinion on the entire series, which I'd broadly dismissed as puerile lunacy which had no respect for my time. I'm starting to shift on that a little, starting to appreciate that such a direct tap into a creator's mind is a rare and precious thing even if the look-don't-touch manner in which it was presented was not something I could tolerate.
I'm never, realistically, going to back and replay the other games, but Ground Zeroes did make me excited about The Phantom Pain. I wanted more of that: more of that flexible, meaty stealth and combat, more 80s Walkman music, more massive sandbox meandering and yes, maybe more of the absurd plot and character design. (Though I was one of those who thought the notorious bit about the second bomb was unjustifiable).
Question is, can I possibly understand Metal Gear Solid V: The Phantom Pain if I don't know the impossibly long story so far, and can I possibly appreciate it if I don't? Only one way to find out. I don't know how long this series will be, or quite what direction it will take. It'll be part in character, part review, part verbalised bewilderment, I suspect.
What?
To start from the start, Metal Gear Solid has one of the strongest openings in recent memory. A distorted cover version of David Bowie's 1970 hit The Man Who Sold The World which sounds as though it comes from David Bowie's 1980 album Scary Monsters (And Super Creeps), while I watch a blurry world through the eyes of an unseen, unnamed protagonist. He blinks, slowly, painfully - the world washes red, then back to the blur, as the serpentine song warps in and out. Terrible things have happened. Consciousness ebbs.
A doctor. A coma. An explosion. Human bone and teeth lodged in my heart, in my brain. A missing hand. A phantom pain. A chance to choose a new face, painstakingly, debating over every feature, tweaking, perfecting. Wait, who I am? Am I not Snake, this man I have seen on the front of all those boxes. Can I be this man instead, then?
No, I cannot. A full-featured character creation tool included purely as a feint. A murdered doctor, his throat slit before he can change my face (and oh God, my two-year-old daughter walks in at this point; "what they doin' daddy? Are they dancing?" Eyes shielded, ushered out, panic). A gun at my head. Another wounded man, face in bandages. Sets the assassin on fire just as I seem to die. Is he real? He sounds like Kiefer Sutherland, but I thought I was supposed to sound like Kiefer Sutherland. Is everyone Kiefer Sutherland? Who am I?
An escape. I can only crawl. A horrible wet, slapping noise as my emaciated chest - nine years asleep - collides with the cold floor again and again. Who am I? Who is this masked man who sounds like I should sound? Is he real? He keeps... disappearing. Returning suddenly. Never quite noticed. Is he me? Am I me? Who are these men with guns, why are they killing everyone? Who - God, who is that man on fire, impervious to bullets, to rockets, to high-speed collisions?
Luckily he's afraid of water.
I keep dying, I swear it. But I always get back up. How many times have I died already? Am I dead now? Who am I?
Escape, somehow. The man on fire pursues, aided by a flying woman in a gas mask and distended, fiery arms. They seem unable to kill me. Maybe they don't want to.
But they do want to PLUCK A GIANT WHALE FROM THE SEA, SET IT ON FIRE AND THROW IT AT A HELICOPTER.
And so they PLUCK A GIANT WHALE FROM THE SEA, SET IT ON FIRE AND THROW IT AT A HELICOPTER.
Then the man on fire rides on a flying unicorn on fire. I didn't manage to get a screenshot of the whale because I was paralysed by excitement and confusion, but I did manage to get one of the unicorn.
Do you see? Do you see?
Somewhere along the way, the man who sounds like I should sound seems to have died. I don't know if I believe it. I don't know if he was real. But now another man who sounds like I should sound has found me. He has long hair and a knowing smile, and a horse. We ride the horse. Somehow, we escape the flaming unicorn. Then there is a montage, and now I have a robot hand and
And I've never seen anything like this in my life.
I don't know what happens next. But, in the space of around an hour, I've changed from someone who's sneery towards Metal Gear Solid into someone who, for now at least, adores it. Does any of this make sense to anyone who played all the other games? Maybe, maybe not, but I don't feel as though it matters. I just feel that I should enjoy the ride.
Next: stealth.