MSI Optix MPG27CQ review: A great monitor with bonus RGB options
Optical illusions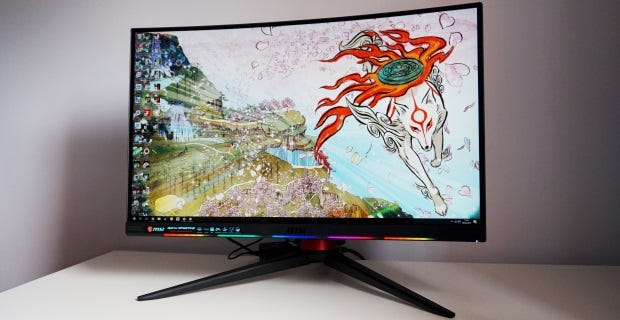 As 27in 2560x1440 monitors go, the MSI Optix MPG27CQ is one that really likes to get up in your face. It's only 27in across the diagonal, but its curved VA panel and ginormous base gives it quite a sizable footprint. Indeed, you'll need 379mm clearance to fit this beast on your desk, which is just about enough room to stick your keyboard in front of it, but not a lot else.
In a way, having its screen shoved so close to your eyeballs helps show off its 1800mm curvature radius much more effectively than if it was sat further away from you, as the sense of those curved edges wrapping themselves snuggly round my peripheral vision feels much more pronounced than any of the ultrawide 21:9 monitors I tested earlier in the year. The other reason why it feels so up in your grill all the time, though, is that it's also got five pulsing LED strips along the bottom, which is sure to make RGB fanatics squeal with delight.
As with most RGB gubbins, however, you'll need to have other RGB bits to get the most out of it - specifically, Steelseries bits in the MPG27CQ's case, as it comes with fully built-in Steelseries Gamesense support. This means you can either have them match your compatible Steelseries keyboard, mouse and mouse mat for the ultimate synchronised RGB light show (as seen below), or you can configure each bar (plus the cyber-esque sci-fi pattern on the back of the monitor - yes, really) for specific games using Steelseries' Engine software. Or just turn them off altogether if you prefer.
For those that just can't get enough of both their RGBs and requisite Steelseries gear, however, here's an example of how it works. Fire up the CS:GO Engine app, for instance, and you could have the two LED bars on either side of the monitor signifying your health and ammo, while the middle one shows your round kills. The back can also be configured to show your current health status to your fellow esportsers or LAN fellows, too.
Similar effects are available for Dota 2, Minecraft, Utopia 9 and Gigantic, but you can also use them to display notifications for Discord or use Steelseries' Audio Visualiser to mimic the beat of your thumping tunes right along the bottom of your monitor. Just make sure you connect the monitor's bundled USB cable, otherwise the monitor won't show up in Engine as a configurable device and your RGB dreamscape will crumble before your very eyes.
All that's certainly a large part of why the Optix MPG27CQ costs as much as it does - £435 in the UK or $450 in the US - but even if you're not fussed with all that RGB malarkey, at least you're also getting a damn good monitor out of it as well. Unlike other monitors I've tested recently, the MPG27CQ eschews more traditional colour modes and profiles for gaming-themed only ones. None of this Photo, Web or Eco mode nonsense here (although you do get a blue light filter in the Eye Saver menu). Just a dedicated User mode and FPS, Racing, RTS and RPG profiles.
Normally, I find gaming-specific modes rather horrendous, and the MPG27CQ is no different in this respect. FPS completely drains the screen of all signs of green and goes completely overboard in the sharpness department, for instance, while Racing has ALL THE GREEN and makes the screen so bright it's almost blinding. RPG is probably the most natural looking of the lot, but unless you have a particular preference for these sorts of modes, you're much better off sticking with the default User mode.
Here, my i1 Display Pro calibrator showed the MPG27CQ was displaying an impressive 100% of the sRGB colour gamut, and even 87.6% of the more professional grade DCI P3 gamut - that's almost as wide a colour gamut as an Ultra HD Premium-rated 4K HDR (or high dynamic range) TV, which must cover at least 90% of DCI P3 to earn itself that coveted box sticker. Alas, despite its superb colour coverage, it's worth bearing in mind this isn't an HDR monitor like the 4K BenQ EL2870U. Still, at least you're getting a great picture and don't have to fiddle about with it straight out of the box.
Since this is a VA panel, contrast was also exceptionally high, hitting 2590:1 according to my calibrator, and its black level was a pleasingly low 0.15cd/m2 on maximum brightness (the closer to 0.00cd/m2, true black, the better). The latter peaked at around 410cd/m2, giving you plenty of range if you happen to catch a rare bit of sun through your window, but you can always turn it down to something less eye-searing (I found around 25% was better for everyday use) using its intuitive five-way menu control button round the back of the monitor.
With results like these, games looked stunning on MPG27CQ, regardless of whether I was playing something bright and colourful like Okami HD or fumbling my way through the shadowy environments of the murky Little Nightmares. Primary colours really sing on the MPG27CQ, but its high contrast and deep blacks are also a good match for darker games as well, as not only do deep shadows look like proper pools of inky gloom that blend seamlessly into the monitor's thin black bezels, but there's also still plenty of detail present as light fades into the darkness.
What's more, if you feel the need for a little more illumination in a particularly opaque area of a game and can't be bothered to find the brightness slider in the game's menu settings, you can always use the monitor's handy Black Tuner tool in the onboard menu to shed more light on the subject. Its default setting of 9 (out of 20) should be fine for most games, but nudging it up or down a few notches will make the whole screen appear lighter or darker.
If all that wasn't enough, the MPG27CQ also has a maximum refresh rate of 144Hz, meaning you can play games at up to 144fps provided you're using the bundled DisplayPort cable and have got a powerful enough graphics card to do it. You also get built in AMD FreeSync support, which matches the monitor's refresh rate to the number of frames being outputted by your AMD graphics card to help eliminate screen tearing and make games appear smoother if it's having trouble maintaining a steady 60fps.
Ports-wise, you're pretty well-catered for as well, as you get two HDMI 2.0 inputs, one DisplayPort 1.2 input, plus a two-port USB3 hub and separate headphone and microphone jacks on the left hand side. Despite the size of its base, the MPG27CQ's stand also offers plenty of flexibility, including 120mm of height-adjustment, 5-20 degrees of tilt and -40 to 40 degrees of swivel from side to side.
£435 / $450 is no small investment for a 27in 2560x1440 monitor, but the MSI MPG27CQ is still a sizable chunk less expensive than my current favourite in this size and resolution, the £500 Acer XF270HUA, which is enough to earn itself a new place on our best gaming monitor list. It's a bit of a desk hog - indeed, even with the MPG27CQ parked as far to one side of my desk as possible, I still had trouble fitting in my mouse mat and second monitor on the other side of it - but it's still a fantastic screen that not only looks the part of a high-end monitor, but it also offers plenty of physical adjustments and picture options tailor-made for getting the best out of your games. It comes highly recommended.