Nier will continue 'as long as Yoko Taro lives', producer says, but don't expect an Automata follow-up soon
The masked auteur and Yosuke Saito are working on something else in the meantime
The Nier series will keep going as long as its mask-headed creator Yoko Taro is breathing, producer Yosuke Saito has said - while tempering expectations for a sequel (or prequel, or something less obvious) to Nier: Automata to arrive anytime soon.
Saito spoke on the future of Nier during a panel at Korean games convention G-Star 2023 last week. The panel, in extremely Nier fashion, was called "A Meeting to Talk Incessantly About the Production of Nier Automata".
The Nier series to date includes the original Nier - as well as its sort-of-remake Nier Gestalt, which was the version released outside of Japan - 2017 sequel Nier: Automata and remake Nier Replicant. (No, I'm not typing out those numbers.) The games have also been followed by free-to-play mobile spin-off Nier Reincarnation, as well as multiple novels, musical stage shows, a manga and this year's anime adaptation of Automata - not to mention crossovers in everything from Final Fantasy XIV to Fall Guys, Rainbow Six Siege and PUBG.
During the panel, as reported by 4gamer, Saito revealed that Automata has now sold over 7.5 million copies to date. Taro suggested that repeating that level of success would be "impossible", adding that Automata was approached as a "weird story" about a "gothic Lolita girl wielding a Japanese sword" that wasn't expected to find anything more than a niche audience outside of Japan. The game's weirdness and originality became its focus over its more serious themes of war and existentialism to try and separate it from the large number of "dark" characters and stories in video games, without trivialising its discussions of conflict and death.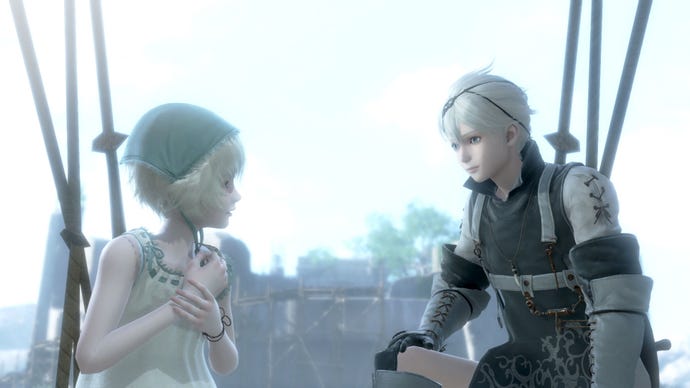 While both Saito and Taro seem unsure that any future Nier game could repeat the cult success of Automata - with Saito adding that "it's not easy" - and Taro agreeing that "it's a lie that things will go well" even with the best team possible.
Still, that won't deter them from doing more Nier in the future, with Saito promising that the series will receive new "works" as long as Taro is alive. (Thanks, Genki.) Saito didn't clarify whether that might mean a whole new game, or more of Taro's other dips into the Nier-iverse as in those books, stage shows and the TV show.
Saito looked to set fans' expectations about when that might happen, too, saying that it wouldn't be "soon". Instead, Saito and Taro are working together on a different project that is due to be unveiled sometime next year.
Still, as a serial Nier-enjoyer who really enjoyed this year's anime as a reimagined retelling of Automata's story, more Nier is never a bad thing to look forward to - whatever form it takes.