Three Short Reviews Of Three Games About Pugs
"The Pug Life Bundle"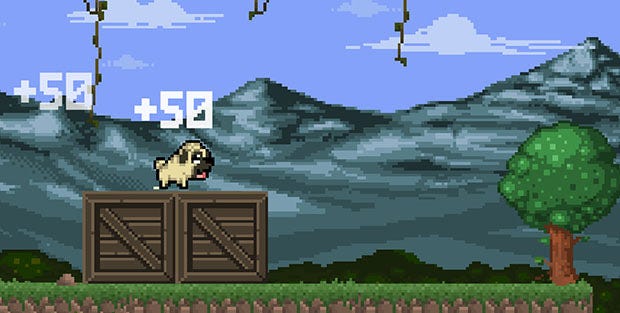 "You live in Brighton, Alec, so you should write about this", directed the tyrant Graham Smith when I inquired as to what my next task should be. I snootily informed him that ACTUALLY everyone in Brighton adopts retired greyhounds, and then grudgingly installed the very cheap The Pug Life Bundle, which comprises three faux-retro games starring the titular horribly mutated and suffering-prone dog breed that people who think decorative cuteness is more important than animal well-being are adopting in droves.
I once went to a gig that was also attended by a woman who had brought her two pet pugs with her in a baby's pram. One of them farted noxiously throughout, which admittedly had the clever trick of buying her a great deal of personal space. The other one, she informed me, could barely walk due to a congenital spinal problem, hence the pram. I felt a great swell of pity for the tortured but eerily placid creatures. The pugs in the Pug Life Bundle are not like those pugs. They can jump and fly and collect coins and pretend that they're in other, more popular games.
Goddamit. Look, here are the reviews. Leave me alone.
Turbo Pug is an endless runner, Canabalt with Pugs, or Temple Run with Pugs if you're, y'know, ignorant about heritage and stuff. The pug runs by itself and you press Space to jump, which as everyone knows is the single worst button on the keyboard for regular repeated jumps. Therefore I die constantly. Eventually you get spikes and stuff as well as drops, so it gets harder. The backgrounds and props remind me vaguely of a Dizzy game whose name I can't recall. The pug doesn't do anything particularly puggy. It's just a pug sprite. Having to use the mouse to click restart is super annoying. Music is vaguely motivational. I had an infinitely better time when I found a double-jumping, low-gravity cat with a goldfish bowl on its head in the character selection menu. For a fleeting second I felt about 12 years old again. 5/10

Super Mega Neo Pug is a flying endless runner in which you need to stay in the air rather than jump per se, halfway between Flappy Bird and Robot Unicorn Attack, only with NO ERASURE. The music is more annoying than Turbo Pug. The pug now has a cape, because he's flying rather than jumping, and now he has more enemies to dodge. Still doesn't do anything I would deem to be iconically pug-like, but maybe he barks a bit more? Quite a lot of variety in the backdrops - this time I was reminded of Lemmings 2. I unlocked a pug with a Santa hat! (Which is odd, given this game was released in May, so Christmas branding seems rather premature). Can now restart using the keyboard. It is NOT ACTUALLY AWFUL but honestly has nothing at all to do with pugs. 7/10
Super Space Pug is not made in Unity, which was a pleasant change from the others. Unity is totally fine, but I do see that settings menu about forty times a week so it's nice not to. AND this game says "welcome to Super Space Pug" in an 80s snythesiser androidy voice when you load it up, which immediately endeared me to it, although that quickly wore off when it turned out that basically every sound effect in the game does this too. Doesn't support 2560x1440, which is obviously leaving a full 3.4% of its likely audience in the cold, how could they? It's a shmup, controlled with the mouse, and it feels floaty and horrible. Everything is tiny and weightless. I scored more points while alt-tabbed to look at something else than I did while playing. The flying cat enemies make a nightmarish noise. The music makes a point just above my right eyebrow ache intensely. There's too much stuff on screen and I keep dying without knowing quite why, and then respawning without realising it because my pug is so damn tiny. I basically hate it! 2/10
IMPORTANT CONSUMER WARNING: THESE GAMES ARE OK BUT THEY HAVE NOTHING MEANINGFUL TO DO WITH PUGS. IMPORTANT CONSUMER WARNING ENDS.
ALSO DO NOT GET A PUG, IF YOU MUST GET A DOG GET A BREED THAT DOESN'T SUFFER FROM A SLEW OF HORRIFIC HEALTH PROBLEMS IN ORDER TO MEET YOUR FIXED IDEALS OF WHAT IS CUTE.
The Pug Life Bundle is out now for 48p, or all three games can be bought separately for 79p each. MODERN VIDEOGAME ECONOMICS.