Resident Evil 4 remake: Steam Deck performance and best settings
No handheld horror here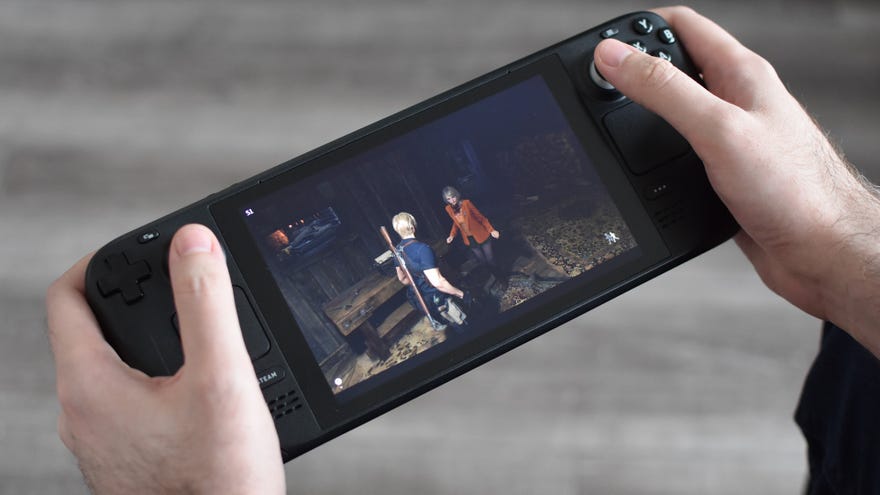 The Resident Evil 4 remake is a mostly cool runner on desktops, and good news if you're recently picked up a certain handheld PC in the sales: its Steam Deck performance is alright too. Maybe not to the battery-sipping, framerate-abundant extent of the very best Steam Deck games, but with the right settings, nu-Resi 4 can keep its burlap sacked head well above 30fps even in its most visually demanding scenes.
I've worked out a couple of setting combinations for you to choose from, but first, the basics. Although Valve haven't rated Resident Evil 4 for Steam Deck compatibility at the time of writing, I fully expect it to follow the Resident Evil 2 and Resident Evil 3 remakes in earning either Playable or the coveted Verified status. The Deck's controls are a good fit, taking advantage of the trackpads as alternate aiming or weapon select inputs, and text is always legible on the 7in, 1280x800 display. I'm a few hours in and haven't experienced any issues with improperly playing cutscenes or audio, either, though I have followed Valve's advice of installing Proton Experimental from the Steam Store and running it with that. You'll want to be using the latest SteamOS 3.4.6 version of well - both this and Proton Experimental include some of Valve's own performance and stability improvements. That's all easy to set up, too - once you install Proton Experimental, Resident Evil 4 will launch through it by default.
As for battery usage, you'll only get about an hour and a half of play from a full charge. Still, as we've seen from previous Steam Deck battery life testing, that's quite normal for a graphically rich, 3D, AAA game. All in all, a fine match for the handheld, and another entry in Capcom's strong (if probably incidental) record of Deck-friendly horror remakes.
Ah, but which settings to use? First off, head to the Controls menu and switch the Button Icon Type to Type 2. Otherwise, it will default to the very much non-matching icons of the PS5 DualSense pad. Next up, the visuals.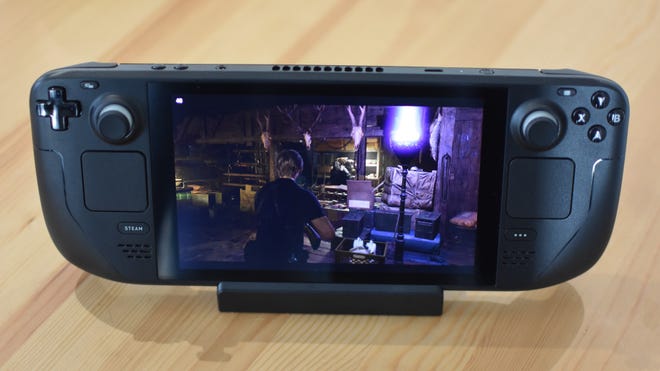 Sadly, it's impossible for Resident Evil 4 to cement a solid 60fps on the Steam Deck's hardware. Even on rock-bottom quality settings, with FSR 2 upscaling on the fastest Ultra Performance mode, it will drop into the 40-50fps range – though that's plenty playable, and because a lot of Resi 4's individual settings don't have much bearing on performance, it's possible to get close to that speed level while raising quality back up.
I did try my PC-optimised settings from the main Resi 4 performance guide, and with the one addition of FSR 2 on Performance mode, these worked surprisingly well - for the most part. They use the Max preset as a framework, but with the following changes:
Ray Tracing: Off
Texture Quality: High (1GB)
Mesh Quality: Mid
Shadow Quality: Mid
Ambient Occlusion: Off
Volumetric Lighting: Mid
Screen Space Reflections: On
Hair Strands: Off
Motion Blur: Off
Terrain: Off
Lens Distortion: Off
Depth of Field: Off
These would generally get Resident Evil 4 running around 45fps, rising to 50-60fps in tight interiors. And I'd recommend these again in a second, were it not for one specific section a few chapters in, where a combination of heavy weather effects and dense enemy hordes saw the dreaded sub-30fps drops. As Leon would say when faced with a similarly overwhelming sense of grief and regret: Oh, no.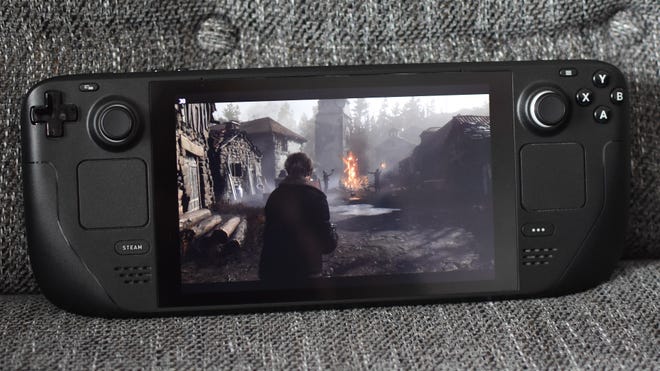 It's up to you if you want to grit your teeth and just play this section at 25-28fps, in exchange for high quality settings and good performance elsewhere. Or, if you want to stay well clear of the 30fps waterline, there is an alternative. This time, start with the fastest Prioritize Performance preset, then make the following amendments:
Texture filtering: High (ANISO x16)
Contact Shadows: On
Volumetric Lighting: Mid
Particle Lighting Quality: High
Bloom: On
Screen Space Reflections: On
Subsurface Scattering: On
Graphic Dismemberment: On
Persistent Corpses: On
Corpse Physics: High
Diverse Enemy Animations: On
Motion Blur: Off
Lens Distortion: Off
(FSR 2 should also be on Performance, but selecting the preset should ensure this by default.)
These settings will make the Resident Evil 4 remake look outright better than the raw Prioritize Performance preset, without really dropping its performance. That challenging storm scene now runs about 38fps on average, and most of the time, you're more likely looking at 45-50fps. More than enough to get busy knife-fighting parasites when you're out and about, and if you want to try squeezing a few more minutes out of the battery, you could also try using Deck's own refresh rate settings to drop from 60Hz to 50Hz or 45Hz. This will effectively cap the framerate to an equal FPS value, but if you're not sustaining 60fps anyway, that's fine.