Roccat Horde Aimo review: Where membrane meets mechanical
Beating back the hordes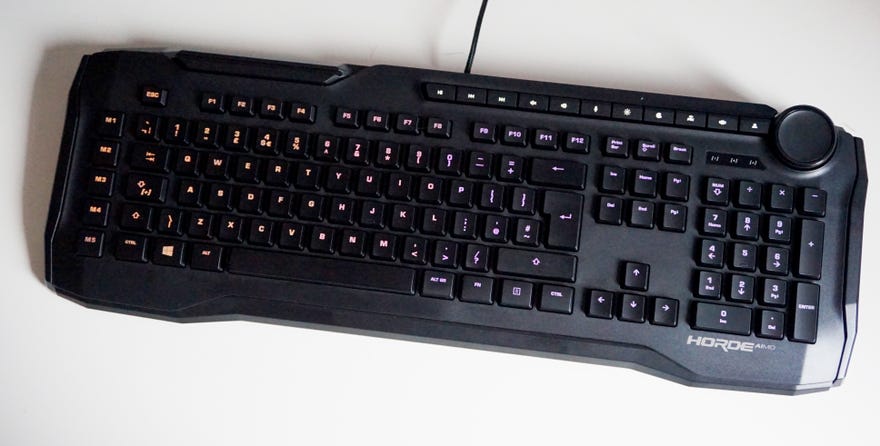 'Membranical' is a horrible word and a crime against the English language, but those in keyboard circles will probably agree (albeit reluctantly) that it's a fitting description for Roccat's new keyboard, the Horde Aimo. If that last word sounds familiar, it's probably because you're remembering Roccat's Kone Aimo mouse, which belongs to the same family of RGB peripherals.
The Horde Aimo is, thankfully, a bit less overt than other LED-tastic keyboards, as the very nature of its closed-in, island-style membrane keys means you only get light escaping from each individual letter cut-out rather than having it spill out the bottom of each individual key cap. That might be a deal breaker for some, but for those who want a less distracting keyboard that doesn't make a CLACKETY racket, read on.
So yes, the Roccat Horde Aimo is a membrane keyboard rather than a mechanical one. That means it has a single sheet of little rubber contact domes rather than individual switches for each key. Generally, this makes membrane keyboards a lot less expensive than their mechanical counterparts, but they're also less durable and, some might argue, not as precise.
The Horde Aimo, however, attempts to provide the best of both worlds, which is partly why it's almost expensive as a traditional mechanical keyboard, coming in at £90 in the UK and $90 in the US. Fundamentally, it's a membrane keyboard, but its so-called 'membranical' keys are supposed to be more precise and responsive than its less expensive siblings. Roccat calls it the 'perfect compromise between membrane and mechanical', and I have to say I'd be inclined to agree.
As much as I come to like mechanical keyboards over the last few months, starting with the Asus ROG Claymore and more recently the HyperX Alloy Elite, I'm still not really okay with the amount of noise they make. I know for some that's the whole point of owning a mechanical keyboard, but that's not always practical when your PC is situated in the living room where other people with functioning ears tend to congregate, or when you primarily use your PC for work and get easily distracted by the CLACK CLACK.
The Horde Aimo isn't entirely silent, of course, but it's certainly a lot easier on the ears than its mechanical rivals, and as a result is much less likely to provoke the throwing of random objects in the direction of your head than any other keyboard I've tested so far.
The spacing between each key and Roccat's midway actuation point (how far you need to press down on each key in order for it to register) also lends the Horde Aimo a welcome sense of precision compared to other membrane keyboards I've used in the past, and it provided a lot more tactile feedback than I was expecting. I much prefer it to my old Roccat Isku keyboard, for instance, which felt very spongy compared to the Horde Aimo when I used them in a side by side comparison, and it didn't take long for me to get up and running at my normal typing speed either.
With this added sense of responsiveness, the Horde Aimo also makes a compelling case as a gaming keyboard as well. I played a large chunk of Final Fantasy XV on the Horde Aimo, and at no point did its fast-paced battles and multiple input commands make me wish I was using a mechanical keyboard instead. The Horde Aimo also coped perfectly well with fast-paced shooters like Doom and felt just as comfortable and precise as any of the other mechanical keyboards I've used over the last few months.
I'm also a big fan of the large wheel dial in the top right corner. This lovely little tactile knob lets you control the volume, LED brightness, switch between individual windows instead of using Alt-Tab, cycle through different RGB profiles and change the overall colour scheme of the keyboard when you press its corresponding key on the adjacent media bar. You can also hold down the person icon key (for lack of any other name, as seen above) right next to it to activate Windows 10 Dial support - i.e.: the same kind of fancy controls available on Microsoft's diddly Surface Dial peripheral.
The Horde Aimo is the first keyboard to incorporate Dial straight into its controls, and gives the wheel a default function when you don't have any other media keys in play. Straight out of the box, for instance, you can use it to scroll through web pages and documents, but hold it down and you're presented with three other options: controlling the volume without having to press another key first, zooming in on whatever you're looking at, or opting to use it as an 'undo/redo' dial. To activate your chosen function, just press the person key again. The undo/redo option is particularly handy when you're writing and you want to bin everything you've just written because it's an embarrassing pile of trash, but really it's the speed at which it handles these actions that really gives it an edge over traditional keyboard shortcuts.
You can also add another 'custom tool' option to the Dial menu using Windows 10's Wheel options in the Devices menu in Settings. This lets you assign three more functions to right and left rotation, such as various keyboard shortcuts or even individual letters, numbers or Fn keys, as well as 'clicking' the wheel itself.
Now the Horde Aimo's knob can't actually be pressed in like the proper Surface Dial (for which this menu was intended for), but luckily Roccat's thought ahead, as the 'Click' shortcut is actually assigned to the person button. How nice of them. I was fully expecting this to be a defunct option when I tried it out for myself, but I was happily proved wrong. What's more, the Click shortcut only requires a short, regular press, so it's unlikely to get confused with bringing up the main Dial menu instead, which comes up after a long press. I certainly never had any problems with it anyway, and the whole thing gives the keyboard a wonderful sense of flexibility and customisation that goes a long way in helping to justify its £90/$90 price.
The only thing the Horde Aimo lacks is USB passthrough, so you'll have to make do with connecting your mouse straight into your PC rather than sliding into the keyboard. Personally, that's hardly a big deal in my books, but I understand it may put some people off, so CONSIDER YOURSELF WARNED.
I will also never get used to Roccat putting its five macro keys on the far left of the keyboard - an issue I have with the Isku as well - but at least here they're half height, making them less easy to confuse with Ctrl and Shift et al. Either way, these can be easily configured to your liking using Roccat's Swarm software, which is also where you can alter its RGB lighting.
While the RGB options extend to your usual colourwave, breathing, heartbeat and snake schemes to name just a few, Roccat's new Aimo intelligent lighting system is arguably the most interesting. Not only does it sync your colour scheme across other Aimo devices you might own, but it also adapts to the way you use them, fading in and out when you're idle and changing colour more rapidly when you're typing or clicking and moving your mouse. It's not particularly distracting either, thanks to the Horde Aimo's already subdued lighting design.
All in all, I really quite liked the Roccat Horde Aimo. It may be expensive and not the most attractive keyboard in the entire world, but it's arguably the closest you're going to get to a mechanical keyboard without all the CLACKETY CLACKS and over-the-top RGB lighting systems. The dial is a real asset as well that gives it oodles of flexibility and customisation options, and its subtle RGB design is both tasteful and pleasing to the eye. If you're a lifelong membrane fan and want something a bit more upmarket and precise without having to put up with a lot of noise, the Roccat Horde Aimo is one of the best gaming keyboards around.