Saturday Supplement: Gotham Is Rubbish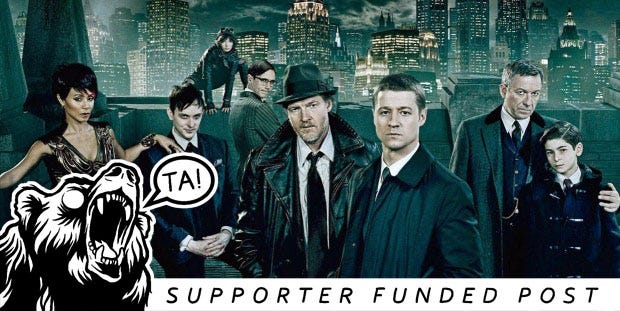 This isn't about videogames, but consider it an extension of our shortlived Saturday Supplement. Gotham is an American TV show currently in its third season. It's awful in almost every way, and yet they keep making it and I keep watching.
Gotham has a compelling premise in that it's set in Batman's home city in the years before Batman exists. Bruce Wayne is still a young teenager, his parents killed in the first episode, and the show's main character is instead Detective Jim Gordon. The show then introduces other characters from Batman lore in their embryonic forms: The Riddler is not yet the Riddler, but Edward Nygma is there as a riddle-obsessed police lab tech; Poison Ivy is a little girl and Catwoman is a teen, both homeless; the Penguin is present and has that nickname, but he starts out as the trod-upon assistant to another criminal.
It squanders so much.
Read the rest of this article with an RPS Premium subscription
To view this article you'll need to have a Premium subscription. Sign up today for access to more supporter-only articles, an ad-free reading experience, free gifts, and game discounts. Your support helps us create more great writing about PC games.
See more information